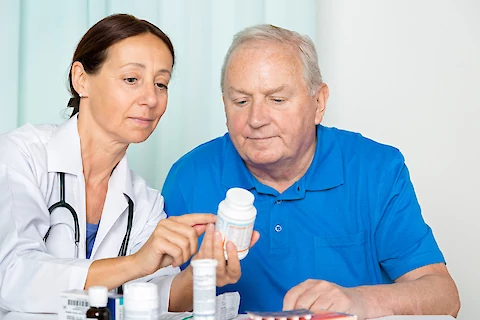 As we age, maintaining our cognitive abilities and overall brain health becomes increasingly important. But with countless vitamins and supplements on the market, how do you know which ones truly benefit senior brain health? Fear not!
In this post from Senior Helpers Huntsville, we'll guide you through the steps you can take to stay informed about vital nutrients for seniors, without providing specific medical advice. With the right approach to healthcare professionals, research, as well as a bit of caution, you'll be able to make informed decisions that support your senior brain health journey.
Consult With Healthcare Professionals
One of the best ways to learn about the vitamins and supplements that support senior brain health is by consulting with healthcare professionals. Regular check-ups with your primary care physician can help monitor your overall health and address any concerns. Bring up the topic of supplements and vitamins, as well as ask for recommendations based on your medical history and current health conditions.
It's also a good idea to discuss supplements with a pharmacist. Pharmacists can check for potential interactions with medications you're already taking. If you're looking for more personalized dietary advice, consider seeking the help of a registered dietitian. They can assess your nutritional needs and recommend specific foods or supplements that are best suited for you.
Researching Medical Information on How to Improve Senior Brain Health
When it comes to researching supplements and vitamins, it's crucial to rely on reputable sources of information. Some reliable online resources include the National Institutes of Health (NIH), the Centers for Disease Control and Prevention (CDC), and the Alzheimer's Association. These websites provide up-to-date, evidence-based information on various health topics, including senior brain health.
Libraries can also be a treasure trove of resources on senior health and nutrition. Browse through books and journals or ask librarians for help in finding relevant materials. Additionally, staying updated with the latest research can be as easy as subscribing to newsletters or magazines, or attending local health seminars and workshops.
Avoiding Scams and Aggressive Advertising
Unfortunately, the supplement industry is rife with scams and aggressive marketing tactics that target seniors. To protect yourself, be aware of these red flags:
Promises of quick fixes or miracle cures. Be wary of products that claim to cure or prevent diseases with little to no effort. If it sounds too good to be true, it probably is.
Limited-time offers or pressure to buy. Don't let high-pressure sales tactics push you into making a hasty purchase. Take time to research and make an informed decision.
Testimonials without scientific evidence. Anecdotal stories should not replace scientific research as the basis for choosing a supplement.
When evaluating supplements, look for products that have been approved by the Food and Drug Administration (FDA) or have undergone third-party testing. Also, be cautious with unfamiliar supplements or brands, and do your due diligence before making a purchase.
Get Support From Senior Helpers
Staying informed about the supplements and vitamins that support senior brain health doesn't have to be overwhelming. By consulting with healthcare professionals, conducting thorough research, as well as avoiding potential scams, seniors can make informed decisions that benefit their cognitive well-being. Most importantly, remember that your health journey is personal and may require adjustments as you age.
If you're looking for additional support in Huntsville, Madison, Meridianville, Hazel Green, Harvest, Toney, Owens Cross Roads, New Market, or Brownsboro, Senior Helpers Huntsville is here to assist. Our dedicated team is here to help you navigate your senior brain health journey. Contact us today to learn more about our in-home care services!