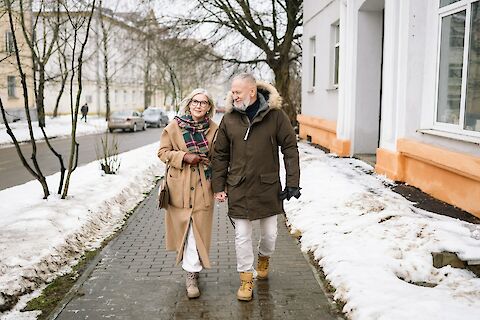 Safe Travel Tips for The Holidays
During the holidays, traveling to see family members can be exciting, and reaching your destination safely, especially in messy weather, should be a top priority. The holidays are known as being notoriously stressful and busy times to travel, so it can be crucial to have a plan in place for safety measures. The Centers for Disease Control and Prevention has valuable resources for you to utilize while traveling domestically or internationally.
Some tips for staying safe while traveling:
1. Researching COVID-19 restrictions before traveling.
Researching the areas you want to visit beforehand will give you a better idea of what is expected regarding COVID-19. Some restrictions may include mask or vaccine mandates, social distancing, or quarantine requirements.
2. Select travel days that are off-peak or unusual traveling times.
When choosing your flights, try to pick off-peak days to avoid higher prices, crowded lines, and stressful flights. Also look for off-peak hours, so early or late flights. This will also help with prices, and if by some chance your flight gets canceled, you will have a better opportunity of rescheduling the flight.
3.  Plan for the unexpected.
Plan for the unexpected flight delays or weather interferences, especially during the holiday season. Leave extra time before flights, AAA recommends arriving at least 2-3 hours before your scheduled flight, but you may need more time depending on the airport, the day, and the time of your flight.
4. Prep your car with winter vehicle maintenance.
Before you even leave your driveway, you should do some winter vehicle maintenance since you could be driving through winter weather conditions. Check the basics like your tires, windshield wipers, washer fluid, and your alignment and fuel up before you leave. This will help you have a smoother and safer ride to your holiday destination. Pack emergency kits for your vehicle in case one should occur.
Traveling to see your loved ones this holiday season can be challenging, but it can be more challenging to see your loved one struggle from the effects of aging. If your loved one needs a professional in-home caregiver that can provide specialized care from the comfort of home, consider the skilled team at Senior Helpers of Appleton. Our wide range of services ensures your loved one receives the care they both want and need.
 We are proud to lead the industry in programs like Senior Gems, which certifies our caregivers in Alzheimer's and Dementia care. We also have a first in the industry Parkinson's Care Program, delivering specialized training to our caregivers who care for seniors with Parkinson's disease. To learn more about the areas we serve and the services we can provide to your loved one, visit our website!