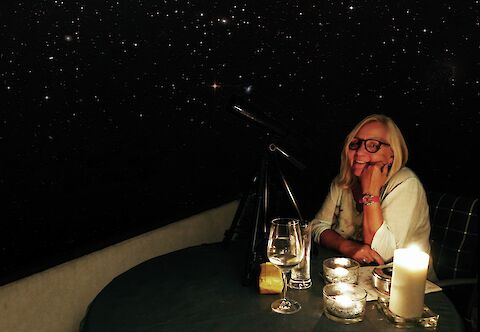 Senior stargazers in the San Marcos area will enjoy December's celestial treats. They'll be able to see not just the naked-eye planets, but also catch one or two meteor showers. As the shortest day of the year is coming on Wednesday, December 21, 2022, seniors have 9 hours and 56 minutes of daylight to get any errands done before dark, leaving them with over 14 hours to enjoy December's night sky offerings. Here are some of the astronomical offerings December has to offer. 
Planetary Delights - Without a Telescope!
This month, all five naked-eye planets are visible in the evening sky soon after sunset. The naked-eye planets are those you can see without a telescope. Senior stargazers can enjoy looking for Mercury, Venus, Mars, Jupiter, and Saturn. Mars and Venus are the easiest to spot. Venus is the brightest and Mars looks orange-red.
Make a Wish On a Shooting Star
Do you remember the fun of making a wish on a shooting star when you were young? Senior stargazers can get a chance again in mid-to-late December when the Geminids and the Ursids put on their annual winter show.
The spectacular Geminid meteor shower is active in December and peaks on the 13th and 14th with hundreds of meteors per hour. Geminid meteors are caused by an asteroid, not a comet, like most meteor showers, which makes seeing them even more fun with family and friends.
The Ursid meteor shower is active from December 17 - 26, peaking just before Christmas on December 22 and 23.
The Geminids and the Ursids overlap for a couple of weeks in mid-December. The best times to see these meteor showers in San Marcos will be in the early morning hours. December 23 is the new moon phase which means that the moon will not be visible and the meteors will appear even more numerous and brighter!
Spot The International Space Station (ISS)
The International Space Station streaks across the sky from Monday, Dec 5, 2022, through Tuesday, Dec 20, 2022. Don't blink or you'll miss the ISS as it is usually in the sky for just a few minutes! 
Here's Your Sneak Peek Into January 2023
January traditionally hosts the brightest night sky of the year since many nights are clear and cold. It's a great month for discovering the constellations!
Senior Helpers Throughout the Year
No matter what time of the year it is, Senior Helpers San Marcos will help you with any type of specialized care you need right from the comfort of your home. Setting up a home consultation is easy. Contact us to see if home care is the right care for your senior loved one. We service not only in San Marcos, but also in the surrounding communities of Kyle, Seguin, Bastrop, Lockhart, La Grange, Luling, Del Valle, and Elgin.