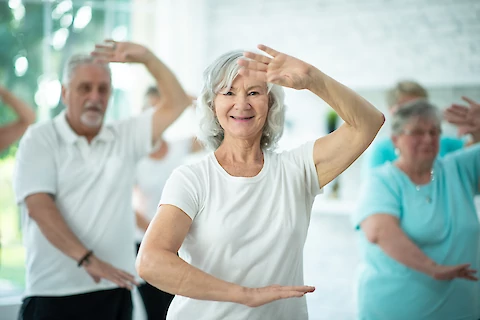 What are the Benefits of Elderly Fitness Programs?
As the population in North and Southwest Houston ages, there's an increasing demand for fitness programs and workouts that can help seniors maintain good physical and mental health. Elderly fitness programs are tailored to unique, age-specific mobility concerns and health goals, such as reducing joint pain, improving flexibility, enhancing balance, as well as maintaining a healthier heart. Exercise can also improve mood and reduce stress levels — two common goals among Texans.
If you or a senior loved one wants to experience these benefits, you have many options in and around Houston!
Six Popular Elderly Fitness Programs for Seniors in Houston
1. Water Aerobics for Seniors
Water aerobics for seniors is an ideal form of exercise if they have joint problems, mobility issues, and even chronic pain. With the added benefit of the water's buoyancy and resistance, it's a low-impact workout that can help improve cardiovascular health without stressing the body. Water aerobics classes typically focus on strength training using pool noodles or other accessories to provide additional support as needed.
2. Dance Fitness Classes for Seniors
For those interested in a more unique form of physical fitness, dance classes for seniors are a great way to simultaneously get fit and have fun! Senior-friendly movements such as the Cha Cha or the Electric Slide can improve coordination, flexibility, as well as balance. Specialized instructors will guide seniors through gentle yet high-intensity moves that may even help bring back memories from long ago.
3. Restorative or Modified Yoga for Seniors
Depending on a senior's needs, they can opt for restorative or modified yoga tailored specifically to their unique needs. Restorative classes are also gentler in intensity while still providing stretching and strengthening benefits. Modified classes invite senior yogis who want an increased challenge but with modifications as needed, such as foam blocks if they have lower back pain. 
4. Functional Fitness for Seniors
Functional fitness classes focus on exercises that enable seniors to better perform day-to-day activities. This can include walking up or down the steps or getting from a seated position to standing. The exercises also promote improved posture and enhance neuromuscular control—important needs at any age!
5. Tai Chi for Seniors
Tai Chi is an ancient Chinese martial art that uses gentle, circular movements to increase flexibility and balance. Its relaxation techniques will help seniors stay calm and improve their concentration. Sessions consist of meditations followed by slow-moving postures that can be customized to any level of experience or physical ability. 
6. Strength Training for Seniors
Strength training for seniors is also an important form of exercise to maintain muscle mass, which tends to go down over time. Low-weight exercises with high repetitions, when performed correctly, can build muscles as well as improve mobility without putting a strain on the joints.
What to Look for in Elderly Fitness Programs
Unsure of where to start with the search for elderly fitness programs? Before committing to a particular program or class schedule, make sure it is tailored specifically to seniors and that the instructor is certified and experienced in providing exercise services to seniors.
Easy Ways for Seniors to Exercise at Home
There are many simple ways for seniors to stay active and healthy from the comfort of their own homes. In fact, they can find numerous free exercise tutorials online for everything from chair yoga to Tai Chi. They can also use bodyweight exercises, such as push-ups or squats, to build lean muscle mass. Finally, everyday activities like yard work and walking a dog also count! 
Senior Helpers North Houston Offers Personalized In-Home Care
Need help getting to elderly fitness programs? Senior Helpers North Houston is here for you. Contact us today to learn more about our licensed and trained professional caregivers providing in-home care to seniors in Houston, Conroe, Humble, Spring, Sugarland, Magnolia, and Tomball, TX.