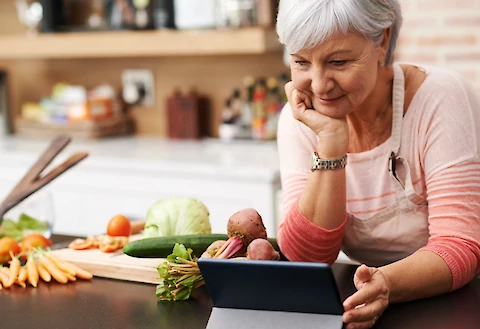 Meal planning is an important part of providing the best care for a senior loved one with dementia. By assisting them with meal planning, you can ensure that your family member is receiving the nutrition they need, allowing you to rest assured knowing that they always have a healthy meal available to them. 
Benefits of Assisting with Meal Planning 
Assisting with meal planning for seniors with dementia comes with many benefits. These include:
1. Improved Nutrition
One of the primary benefits of assisting with meal planning for seniors with dementia is improved nutrition. This can be achieved when you plan meals that are balanced and provide adequate nutrition to maintain a healthy lifestyle. Additionally, fewer processed foods will help reduce unhealthy fats, sugars, sodium, and cholesterol levels in your senior loved one's diet. 
2. Increased Quality of Life
Your senior loved one can enjoy an improved quality of life simply by eating balanced meals regularly. Avoiding processed foods can also lead to more energy, better digestion, and stronger immunity. 
3. Reduced Stress
Helping plan meals can also reduce stress, both yours and your senior loved one's. This is because creating and managing a meal plan ensures that your senior loved one has access to nutritious food at all times, reducing the chances of emergency trips to the grocery store or getting take-out. With a meal plan in place, you'll always know what you're serving for dinner.
Strategies for Meal Planning
The following strategies can help you plan meals for your senior loved one with dementia:
1. Establish a Routine
Setting up a meal plan and sticking to it can help create a daily structure for both you and your senior loved one. This routine will make it easier for them to remember what's on the menu each day, as well as the time of day they should eat meals or snacks. For someone with dementia, routine is important. 
2. Involve Your Senior Loved One in Meal Planning
Whenever possible, involve your senior loved one in the meal-planning process. Even if they're no longer able to cook, they can help choose recipes or suggest special dishes or treats for holidays or special occasions. This can be a great way for them to stay connected and bring joy into their lives. It can also help you bond and create memories with your senior loved one. 
3. Make Healthy Food Choices
Making healthy food choices is also very important when it comes to meal planning for seniors with dementia. Focus on fresh fruits, vegetables, and lean proteins, such as fish or chicken, and avoid processed and sugary foods as much as possible. Incorporating some superfoods into their diet, like blueberries or sweet potatoes, can also provide the added nutrients they need to stay healthy. 
Senior Helpers Ellis County Can Help with Meal Planning and Preparation
By understanding the benefits of meal planning and incorporating these strategies, you can ensure that your loved one receives nutritious meals on time and feels connected in the process. If you need help with meal planning and prepping, Senior Helpers Ellis County can provide the support and helping hand that you need in Waxahachie, Ennis, Mansfield, Midlothian, Alvarado, and Ellis County. Contact us today to learn more about all of the services we offer!