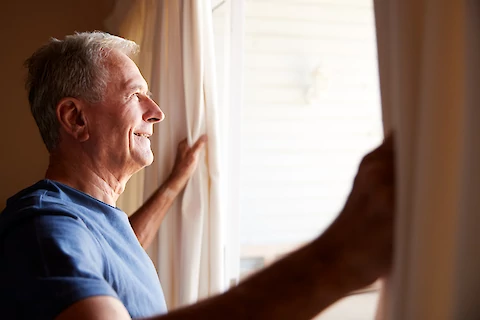 As the days get longer and the temperatures warm up, it's time for all of us to switch our clocks for Daylight Savings Time. As seniors, switching over to the new daylight hours can come with its own unique set of things to consider. Here at Senior Helpers Bryan/College Station, we want to help make your transition to the new time as smooth and stress-free as possible. In this guide, we will discuss tips for transitioning to daylight savings time, easy ways to jumpstart your new internal clock, and tips for adjusting to the new time so you aren't waking up feeling groggy or jet-lagged. 
When Does the Time Change?
During the twice-annual time changes, we "fall back" and "spring forward." Each spring, we move our clocks forward by one hour. This time change occurs annually on March 13th at 2:00 a.m. At that moment, clocks across the country — except Hawaii and Arizona — move forward and the actual time becomes 3:00 a.m.
Preparing for the Time Change: Adjust Your Sleep Schedule
Transitioning to Daylight Savings Time will require adjusting your sleep schedule. You can start this process before the time change by maintaining a consistent sleep schedule and ensuring you're well-rested. The last thing you want is to approach the time change already sleep-deprived and groggy. Once you've established a consistent sleep schedule, start going to bed 15 minutes earlier at least four days before the time change. This will ensure you're well adjusted to the new time before clocks jump forward by an hour. Finally, eating dinner earlier can also help, since your eating habits influence your circadian rhythm.
Set the New Time On Your Watches, Microwave, and Other Appliances
When it comes time to switch the clocks, you will also want to make sure that you change the time on your watches and other appliances, such as your oven, microwave, and television. Don't forget to check any upcoming doctor's visits or other appointments in your calendar to ensure you have the correct time.
Wake Up With the Sunrise to Jumpstart Your Body's Internal Clock
As your body adjusts to the new time, getting up with the sunrise can be a great way to jumpstart your body's internal clock. This will help your body naturally adjust to the new daylight hours.
Tips for Adjusting to the Time Change
If you're still feeling out of it after the time change, you can recover faster through a few changes to your lifestyle habits and routine. For instance, exercising during daylight hours helps reset your internal clock. Your diet also matters. Eating a well-balanced diet, especially one rich in fruits and vegetables, helps maintain a healthy circadian rhythm. Finally, limit your caffeine intake, as caffeine can disrupt your natural sleep cycle.
Senior Helpers Bryan/College Station Offers Personalized In-Home Care
Transitioning to Daylight Savings Time can be a challenge. However, with just a few simple adjustments and tips, you can make it a smooth transition.  Senior Helpers Bryan/College Station's in-home care offers personalized services tailored to your needs, including help with doctor appointments, errands, and schedules during the switch to new daylight hours.  Live the life you want with the support of our licensed and trained professional caregivers. Contact Senior Helpers Bryan/College Station today to learn more about how we can help seniors throughout Bryan, Conroe, College Station, Livingston, Montgomery, and Huntsville, TX.