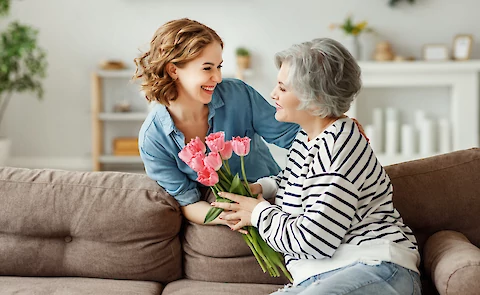 Mother's Day is just around the corner, and it's the perfect opportunity to show our moms how much they mean to us. For those of us with senior moms, finding the perfect gift can be a bit more challenging, as it's essential to consider their unique interests, preferences, and lifestyle. 
In this blog post from Senior Helpers Bryan-College Station-TX, we'll explore thoughtful Mother's Day gift ideas, specially tailored for senior moms. We've included options for various mobility levels, budget ranges, and family situations, ensuring there's something for everyone. 
Tangible Gifts
A popular category to consider is comfort items. A heated blanket or shawl can be especially cozy during colder months, while memory foam slippers provide much-needed support and softness. Another option is a customized pillow, which can feature heartwarming messages or even a favorite photo.
Sentimental gifts are another great choice to express your love and appreciation. A personalized photo album or scrapbook showcasing cherished family memories is a thoughtful gesture that your mom can enjoy and reminisce over.
If your senior mom has specific hobbies and interests, tailor your gift selection accordingly. Large print books or audiobooks can make reading more accessible and enjoyable, while art supplies or craft kits can ignite her creativity. Gardening tools or plants can also be a delightful choice for moms who love spending time tending to their gardens.
Experiences and Activities
Aside from material gifts, experiences, and activities are another fantastic way to celebrate Mother's Day. Organize a family outing that accommodates your mom's mobility and preferences, such as a picnic in the park, a visit to a museum, theater, or concert, or even a day trip to a nearby town or attraction. These experiences can create beautiful memories for your mom and the entire family.
For those looking for Mother's Day gift ideas that involve pampering their mom, consider booking a spa day or massage appointment, treating her to a manicure and pedicure session, or even scheduling a visit to a beauty salon for a new hairstyle or makeup application. These moments of relaxation and self-care can make a significant difference in her well-being and confidence.
Enrolling your mom in a class or workshop can also be an excellent idea. Cooking or baking classes, painting or pottery workshops, or even dance or exercise classes tailored to seniors can offer her a chance to learn, socialize, and have fun. Just remember to have your senior loved one consult with a doctor before embarking on a new exercise routine!
Celebrating from a Distance
If physical distance is an issue, there are still creative ways to celebrate Mother's Day. Organize a virtual gathering with family members via video call, sharing stories, memories, and heartfelt messages. You can even engage in a group activity or virtual game to make the celebration more interactive. 
Another option is to send a care package with your mom's favorite items, handwritten notes, or cards, and arrange a surprise delivery on Mother's Day. Finally, consider subscription services such as magazines, meal delivery, or monthly gift boxes to remind her of your love and appreciation throughout the year.
Get Customized Senior Support Today
Finding the perfect Mother's Day gift ideas for senior moms may require more thought and creativity, but the joy and appreciation they'll feel will make it all worthwhile. If you reside in Bryan, Conroe, College Station, Livingston, Montgomery, or Huntsville, contact Senior Helpers Bryan-College Station-TX for assistance in making Mother's Day memorable for your senior mom. Our team of professionals is dedicated to supporting seniors and their families, ensuring your mom feels celebrated and cherished on her special day.