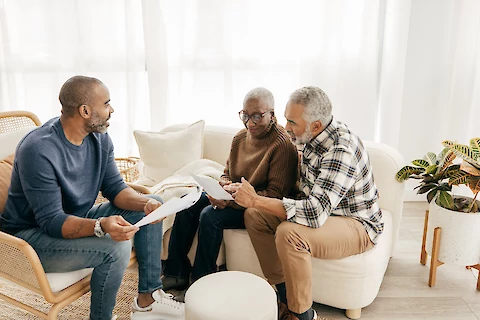 One of the most important aspects of caring for your senior loved one is ensuring their medical wishes are respected, even if they cannot make their own decisions. It is never too early to ensure the proper legal measures have been taken for the present and the future. Here is a guide on planning and making preparations now to ensure that these wishes will be respected.
Have Honest Discussions
No one likes to have these discussions, but it is important to have honest conversations about your senior parents' medical wishes. Plan a time that is comfortable for them and free of distractions. Make notes beforehand of topics to be covered and questions that need answers. Sometimes things can get emotional, and important questions may not be answered without notes.
The two main topics for everyone to discuss include the person your elderly loved one wants to make medical decisions for them and the life-saving medical services they wish to receive. Of course, every situation is different, and additional topics will be unique to your loved ones that need to be included in the conversation. 
Make Your Senior Parents' Medical Wishes Legal
Having discussions and making notes is incredibly beneficial but not legally binding. Once you have discussed and know the wishes of your senior parents, it is time to make it legal. There are a couple of different ways you can do this in Simpsonville, Greenville.
Advance Directives
As its name implies, an advance directive is a written document specifying a person's medical wishes. Advance directives typically consist of two parts. The first part is a living will. The purpose of a living will is to let family members and doctors know which life-saving and life-sustaining medical services you wish to receive. This will address your elderly loved ones' wishes to receive services such as CPR, ventilators, tube feeding, IV hydration, pain relief, and other palliative care measures. Anyone can create a living will, but they are most common for individuals with a chronic or terminal illness.
The second part of an advanced directive is a health care power of attorney. This can also be called a healthcare proxy. A healthcare power of attorney is the person your loved ones choose to make medical decisions for them in the event they are unable to. This is usually a family member such as a spouse, child, or sibling. However, it does not have to be. It can also be a close friend.
Advance directives can be made through a lawyer or estate planner, or you can create one on your own. They are legally binding as long as you sign the documents in the presence of two adult witnesses or in front of a notary.
Healthcare Proxies
Healthcare proxies are often part of an advance directive. However, they can stand alone. Anyone 18 years of age or older can make a health care proxy in the event that they become incapacitated. This document contains instructions on who will speak for your senior parents and make medical decisions on their behalf should they become unable to do so themselves.
The chosen person will have the same rights as if they are the ones receiving medical care, including authorizing medical care, having priority hospital visitation, receiving personal belongings, accessing medical records, and requesting a specialist.
It is important to know that health care proxy can only make decisions if a doctor deems your loved one unable to. Up until that point, they retain complete control over their medical decisions.
Standing the Test of Time
Laws change, and technology advances. It's crucial to ensure that what is put in place for your senior loved ones today will legally stand the test of time. It is advisable every few years or as often as necessary to review the documents with a lawyer or estate planner and ensure there isn't anything that needs to be updated. For example, if a new life-sustaining medical device is developed, your loved ones' wishes concerning whether or not they want it used on them should be included in the will. 
Planning Now to Protect Your Senior Parents' Wishes
Knowing your elderly parents' wishes and putting a plan in place now reduces the stress of making decisions later. Senior Helpers in Simpsonville, Greenville, is the most trusted provider of in-home senior care. We offer a wide range of services, from companion care for help with daily tasks to specialized assistance for those living with Alzheimer's, Parkinson's, and other chronic diseases. Please feel free to contact us for more information on how we can enrich the life of your elderly loved one.