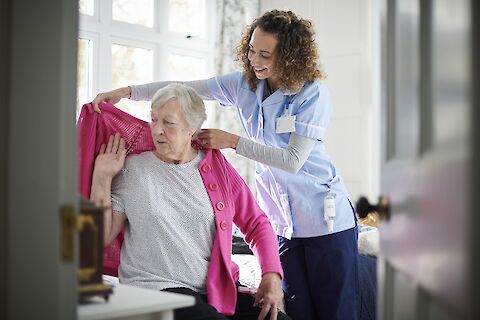 What's the Difference Between a Live-In Caregiver and 24/7 Care?
Deciding what help is best for your elderly relative can be challenging and overwhelming, but at Senior Helpers Warren we are dedicated to giving you the information you need to make the right decision for your loved one. If you would like to find out more about whether around-the-clock care is the right choice for your circumstances, read our article on Live-In-Care here!
24/7 Care
While both options provide 24-hour companionship and service, there are a few key differences you should be aware of in order to make the right choice for your loved one. The most important difference between a Live-In Caregiver and 24/7 Care is the amount of caregivers/shifts. 24/7 Care uses several caregivers, who work in shifts around the clock, meaning there are at least two separate caregivers coming/going every day. Pay is determined by an hourly rate, which can become quite expensive. However, you have control over how long each shift is (usually between 8-12 hours), and if/when the caregiver can take breaks, making sure your relative has direct care 24 hours a day.
Live-In Caregiver
A Live-In Caregiver stays in the home with your loved one for 24 hours a day, for up to four or five days at a time depending on the circumstances. Usually, there are two main caregivers who split the week, taking turns on weekends/holidays. There is a flat rate per day, including sleep and rest breaks, which can come to half the cost of 24/7 Care. With one caregiver per day, there are fewer interruptions to your relatives life, and more quality time. However, you must be able to provide a place to sleep for the caregiver, and the mandatory 8-hour sleeping time might mean your relative does not have direct supervision during certain times at night. Still, the caregiver is in the same home, and is always close-by just in case.
Senior Helpers
At Senior Helpers, we strive to provide the best quality care for your loved ones, so your mind can be at ease. We know how difficult it can be (raising a family of your own or living far away) to feel that you are giving your relative the care they deserve. Our staff has been well-trained, and is qualified to serve your loved one in a multitude of ways:
In-Home Assessment, so we can be sure to meet the unique needs of your relative

1-on-1 dedicated care

Specialized Care Plans for Alzheimer, Dementia, Parkinson, etc.

Transportation to appointments and shopping
If you would like more information on the staff we hire, and the qualifications we provide, read more on our website, or contact us today!
If your loved one is hoping to age-in-place, in the comfort of their own home, make an appointment with us so we can help you create a plan that is the right fit for your family. Areas that we serve include Warren, Warren County, North Warren, Russell, Youngsville, and Corry (Pennsylvania).