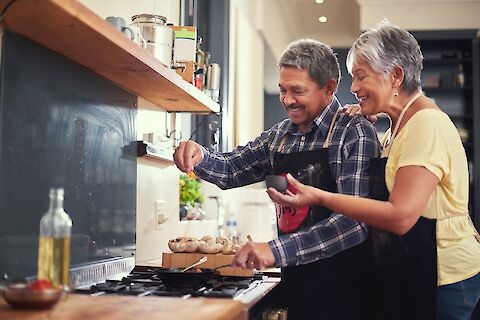 The Best Foods for Senior Health
The food we eat has a huge effect on our health and wellbeing. This is especially true for seniors. In fact, research by the World Health Organization has shown that a balanced diet and healthy nutrition can significantly decrease the risks of many diseases -- including cardiovascular diseases, strokes, and cancer. This list will walk you through some of the best foods to fit into your elderly loved one's diets to make them healthier and happier!
Omega-3 Fatty Acids
Omega-3 Fatty Acids are found in many foods such as salmon, tuna, canola oil, and walnuts. It is important to have foods with omega-3 fatty acids at least twice a week and health benefits range from lowering the risk of cancer, arthritis, and, most importantly, cardiovascular diseases. In addition to this, foods with omega-3 fatty acids can also improve eye health, brain health, and reduce the risk of Alzheimer's.
Vitamins C
Vitamin C is one of the most important vitamins and also one of the easiest vitamins to fit into your diet. It is essential for the production of collagen in the body which helps improve skin elasticity, replace dead cells, repair bones, teeth, and boost wound healing. Furthermore, as an antioxidant, Vitamin C also reduces the risk of cancer and boosts your immunity too. Vitamin C can be found in many fruits and vegetables including oranges, strawberries, broccoli, and bell peppers.
Vitamin D
Vitamin D is crucial in the absorption of Calcium from our diets and, as a result, plays a significant role in maintaining bone health and preventing diseases like osteoporosis. New research has also shown that Vitamin D can provide extra protection against diseases like type 2 diabetes, cancer, and multiple sclerosis. To get Vitamin D into your diet, it is important to eat foods like salmon, tuna, or eggs. Another great source of Vitamin D is sunlight. However, too much sunlight can also lead to an increased risk of skin cancer so it might be beneficial to consider Vitamin D supplements after consultation with your physician.
Calcium
Along with Vitamin D, calcium is essential for maintaining the strength of bones and insufficient Calcium in our diet (or absorbed from our diet due to vitamin D) will lead to easily broken and brittle bones- leading to diseases such as osteoporosis. Furthermore, maintaining high levels of calcium in our diet will also reduce the risk of diseases like type 2 diabetes. High levels of calcium can be found in dairy products( like milk, yogurt, and cheese), fortified orange juice, and fish like salmon and sardines.
Fiber-Rich Foods
Our fiber intake becomes increasingly important as we age, making it especially important for seniors. Some of the benefits include improving gastrointestinal health, reducing the risk of type 2 diabetes, maintaining a healthy weight, lowering the risk of heart disease by reducing cholesterol levels, and reducing the risk of colon cancer. Some great sources of fiber include beans, fruits, oats, and potatoes.
Why Senior Helpers?
Senior Helpers is known all around the country for providing high quality, compassionate, and personalized care to cities all around the United States for over 18 years. So, if you have elderly loved one's living incites including Warren, North Warren, Russell, Youngsville, and Corry in Pennsylvania, Senior Helpers Warren, PA will help you keep your elderly loved one's safe, happy, and healthy.
Whether you're looking Alzheimer's and Dementia Care, Parkinson's Care, End of Life Support Care, Personal Care, Companion Care, Live-In Care-Senior Care, or one of our other services -- Senior Care Warren has the services and the best highly trained licensed home caregivers and staff to improve your senior loved one's quality of life. So, contact us today, so we can help your senior loved one's improve their quality.