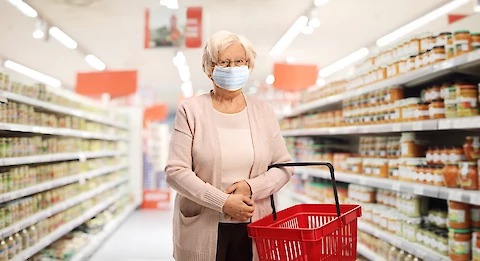 Help Seniors Save Money on Groceries in Warren, PA with These Tips
Seniors make up about 19% of the population in Warren, PA and are expected to live longer and more independently than previous generations. For that reason, it is important to stick to budget and saving money wherever possible, This is even more critical when shopping for basic necessities like food and other groceries.
 Here are 6 tips to help seniors save money on a trip to the grocery store in Warren, PA:
1.  Consider Shopping at a Discount Store
There are a lot of discount stores that provide low prices if you aren't picky about the brands you buy. Stores in Warren, like Save-a-Lot or Aldi, offer lower prices than traditional grocery stores. Most of these stores will ask you to bag your own groceries, bring your own bags, etc. as they cut costs as much as possible in order to help you save additional money. However, this can provide a stronger sense of purpose and independence, which is critical to thriving through your golden years.
2.  Search Weekly Sales Ads
Sometimes stores will offer sales on certain items, which helps save money. Sales ads are especially useful for more expensive items like meat. For example, steak or chicken may be on sale for a reduced price per pound. There are also frequent sales on canned goods, which are often $10/10 or sold for a discount if you buy a certain quantity. The savings on any given trip may seem insignificant, but consistently shopping the sales will add up over time. Be sure to compare ads from several local grocery stores to help find the best deal when you need to stock up on your basics.
3.  Stock Up On BOGOS
Many supermarkets offer Buy One, Get One Free (BOGO) deals. These are a great way to stock up on long-lasting items that you use frequently. Stores will often offer BOGO deals on popular household staples like canned vegetables, broths, or rice that can help stock your pantry. Condiments like ketchup, mustard, and mayo are also other popular BOGO items.
Stocking up on these staples now can help you save money for later. To ensure that you're getting the best deal, be sure the store hasn't raised the original price of the item. You should also be aware that some stores will limit the number of items that you can buy with buy one, get one free deals.
4.  Buy a Sunday Paper and Use the Coupons
A Sunday paper costs about $1-2. If you use the coupons inside, you'll be sure to save a lot more than that! Additional coupons can sometimes be found online, and some grocery stores have double-coupon days to increase your savings even more. Check to see if your local store has a day of the week when you can save double the money with your coupons. The faster the coupons add up, the better.
5.  Buy Store Brand Products
Many times store brand products will be cheaper than the name brand. Name brands often cost more simply because they are associated with recognizable labels, and many stores have their products made by the same companies as the name brand. Buying generic store brands will save you about 25%.
6.  Only Buy What You Need
If you are in need of produce but there is too much in the package, you can ask the store to repackage it. Many stores are happy to repackage something to give you only the portion you need. This will cut down waste and help you save money at the same time. For example, if you see a package of 6 zucchini and you only need two, just ask them if you can buy two. Many stores want to do as much business as possible and will be happy to accommodate! The same can go for a half of a loaf of bread, a pie, a cake, or other items that are packaged in the store. You don't know the answer until you ask!
These are 6 great ways to help seniors save money on a trip to the local supermarket in Warren. Saving money doesn't mean that you don't eat well, it just means that you know where to find the best deals and how to pinch pennies when possible. For seniors on a fixed budget, saving money on food is critical to keeping on target each month with your living expenses. However, it doesn't mean that you have to give up eating healthy, quality food to meet your budgeting goals.