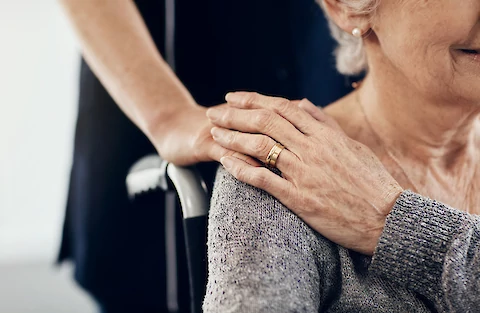 End-of-Life Care for You and Your Loved One
Regardless of where you come from or what your beliefs are, we all deserve to die with dignity after a life well lived. Sadly, in the face of terminal healthcare issues such as cancer, COPD, or end-stage renal failure, dying with dignity presents some difficulties. That's why Senior Helpers of Warren, PA offer specialized end-of-life care for your loved ones who are aging in place.
What is End-of-Life Care?
The terminology used to describe end-of-life care can be confusing. People often use the terms "end-of-life," "palliative care," and "hospice" interchangeably when in reality there are subtle differences.
End-of life-care, otherwise known as comfort care, refers to any intervention taken by a healthcare professional or in-home caregiver to bring physical and emotional comfort to a person with a terminal diagnosis, allowing their final days to be filled with rest, comfort, and dignity. The exact definition of end-of-life care differs depending on the agency and state, but it is generally used to define care for a person with anywhere from six months to a year to live. 
Palliative care is a more general term. Palliative care is designed to increase the quality of life and functional abilities of a person with a life-threatening illness. The major distinction is that a person receiving palliative care can have a positive prognosis and not necessarily be at the end of their life.
Hospice refers to a more specialized service. A hospice program tends to include a spiritual dimension and aims to provide both the patient and their family members and other caretakers with relief. Many hospitals offer specialized hospice programs that require a referral process.
The in-home caregiver professionals at Senior Helpers are highly equipped to assist you and your loved one with end-of-life care that provides physical and emotional comfort.
The Physical Care Component
Our in-home caregivers are trained to assist your loved one with all activities of daily life (ADLs) with the goal of minimizing their discomfort. ADLs include dressing, bathing, hygiene, and, if applicable, ambulation or transitioning from bed to furniture.  
Our skilled around-the-clock caregivers can also help you and your loved one with important household tasks such as cooking and light cleaning duties. These services are designed to promote a calm home environment where a person can pass away with dignity.
The Social Care Component
Our live-in caregivers understand that family and friends play an incredibly important role in their loved one's transition. Caregiving is an intimate experience for family members. The emotional and social component to our end-of-life services helps to alleviate caregiver fatigue by providing an extra helping hand to take care of the cleaning and all other mundane chores to allow for the family to spend more time with their loved one.. 
Aging in Place, Dying With Dignity
At Senior Helpers, our in-home caregivers are committed to the care and comfort of your loved one. Our 24-hour aides will always be there by your side to balance all the tasks necessary to care for your loved one, and our services help to make your loved one's final days peaceful and calm. Please contact Senior Helpers today to learn more about our end-of-life services.