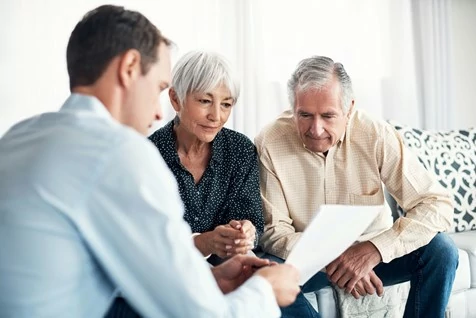 Growing older while living in the Concord area can be great. While there are opportunities for many wonderful experiences in this stage of life, it's important to understand that seniors are often the targets of insurance fraud and scams.
For seniors hoping to live independently for as long as possible, it's important to be vigilant and follow a few best practices to protect yourself. When your financial assets are protected, you have the freedom to live your best life.
Know Your Insurance Agent
Never give your information out to someone claiming to be an insurance agent. Anyone can say they are an insurance agent, but do they have a license to be a practicing agent in your state? Research the insurance agency they claim to be with and check their license. All agents and brokers in the United States are required to be licensed.
Tip: Check your state regulator's website regarding the agent. In addition, research any company claiming to be established in the Concord area before giving them any of your personal information.
Protect Social Security Number & Credit
Times have changed. In the past, when you filled out your insurance application, it seemed companies wanted to know everything about you. But now, rules and regulations have changed. If you are only looking for a quote, you don't have to give out information like your social security number.
Tip: Beware of any unsolicited contact asking for your social security number. You may want to freeze your credit score. While it's a long process, it might be worth it if you have problems with stolen information.
Avoid Writing Checks to Agents
While you may have been writing checks for years, it's no longer the best way to make payments. Be aware that an agent who insists on a check payment made out to the agent's personal name might have ill intentions.
Tip: Call the company headquarters and ask about their payment policy and if checks can be made out to the company name.
Medicare Fraud
Under the Medicare Affordable Care Act, beneficiaries are not required to obtain a new ID card. So if someone calls you claiming to be from the government and requests that you pay for a new insurance card, it's a scam.
Tip: If contacted, never share personal information over the phone. Instead, hang up immediately and contact your local police department to report the call.
Be Cautious of "Phishing Scams"
Be cautious of websites and emails that might be trying to steal your information. You usually will not be solicited by an insurance company unless you directly contact them asking for a quote or other information.
Tip: Be careful with email links. Be sure you know who sent the email and the purpose of the link. Some links contain malware which, if clicked on, allows the sender to steal your information.
Avoid Insurance Fraud
Although it is becoming more difficult to protect your information with today's technology, using the above tips will help protect you from insurance fraud in the future. To find out more about how to avoid insurance scams or to hire an in-home caregiver in Concord, China Grove, Mt Pleasant, or the surrounding areas, visit us.