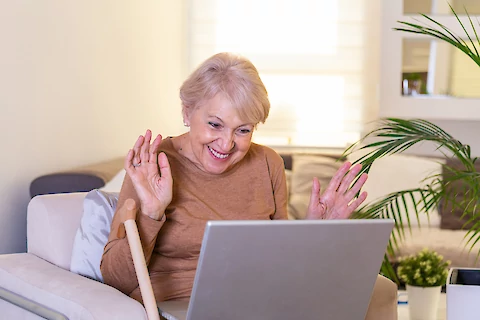 4 Ways to Help Seniors Embrace Technology
How can we help seniors embrace technology? If the facts are any indication, seniors find the digital age a deep puzzle. A new study reports that frustration is a significant factor in preventing seniors from adopting new technology.
That said, it's almost impossible to conduct any type of business in the Charlotte area without technology. Whether it be a smartphone, desktop computer, tablet, or home security system, most people's lives are impacted by bits and bytes.
For many seniors — even those who like to think that they are tech-savvy — the rate at which technology is changing in Mecklenburg County is breathtaking.
Because of this, it can be challenging to teach seniors how to use new computer software, smartphones, and apps, even if it helps them connect to essential services. Below, we share four tips to help seniors embrace new technology.
BE PATIENT
A big mistake most people make when trying to introduce new technology to seniors is to flood them with information all at once.
Instead of trying to teach seniors how to perform multiple functions on their smartphones, tablets, or any other device, start with one function at a time. Allow your loved ones to learn the major functions first. However, give them time to familiarize themselves with one before moving on to the next.
Tip: When selecting a new smartphone device for a senior, two of the best app features to introduce to seniors are GPS and location tracking. Hopefully, these apps will make seniors feel safer when driving around popular cities like Cotswold, Monroe, Mint Hill, and Gastonia.
PREPARE CHEAT NOTES FOR COMMON TECH PROBLEMS
Expect the senior to have questions about problems they may be having with the device. Write out easy-to-understand cheat notes that will explain how to resolve the most common problems.
Tip: Check with the senior to find out what problems they are having with the device, then create your cheat list. As time progresses, you can add more items as needed.
BECOME THE GO-TO PERSON FOR QUESTIONS
Encourage the senior to ask questions when encountering difficulties. Let them know you are only a phone call away and willing to help in any way you can. Tell them that no question is a silly question.
Tip: Many seniors would rather put away the device than ask what they consider the "same types of questions." Encourage them to consider you as their go-to person when it comes to familiarizing themselves with the new device.
SELECT INTUITIVE DEVICES
Everyone likes intuitive devices. These types of devices are easier to use because they allow you to "guess" how they work. Of course, your loved one may still have questions. But, intuitive devices make it easy to figure things out without having to pore through technical manuals and decipher unfamiliar words.
Tip: Remember some devices will allow you to remove unwanted or unnecessary features. However, the GPS and location tracking apps are essential for seniors who are unfamiliar with a particular area.
For example, although they may be traveling just a short distance from Pineville to Gaston County, one wrong turn can lead to panic and confusion. To learn more about strategies and tips to help seniors embrace technology, contact us today. We are proud to offer a range of services for seniors, from dementia care to respite care.