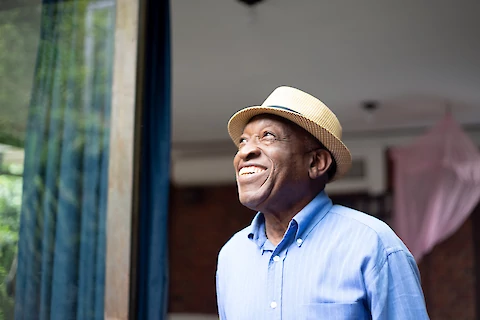 Keeping a positive attitude has been linked to numerous health benefits, both physical and emotional. However, remaining positive is easier said than done for many of our dear seniors. The CDC estimates that seven million Americans over the age of 65 experience depression each year. While clinical depression often requires treatment from a medical professional, caregivers can help their patients and loved ones reap the benefits of an optimistic outlook. Try these three suggestions.
Stay Engaged
Having a sense of purpose is vital to maintaining mental well-being. For seniors who are fairly mobile and independent, volunteering, tutoring or other community involvement adds the critical engagement and self-worth they need. Get out and join new groups. Milford Senior Center offers exercise classes for seniors, a great way to stay in shape and become part of a social group. Explore senior companionship services to ensure your senior gets the needed engagement.
For those with limited mobility, stimulate the mind with hobbies, such as crafting, crosswords, Sodoku, and reading or listening to books. Stay connected to friends and family through video chat. Never underestimate the power of seeing familiar faces on a regular basis, even if you are only seeing them virtually. One study found that learning new technologies was associated with higher well-being and lower depression. Learning to navigate technology can open up a world of engagement, including online board games, trivia, card games, and other social activities.
Inject Positivity
If you are the home caregiver or family member, you can play a huge role in the attitude of your senior. Encourage positivity by being optimistic. Make exciting future plans. Have a sense of humor. Listen patiently to your senior's thoughts and concerns. Then, turn the conversation in a positive direction.
We know it's difficult to keep a smile on your face when dealing with the challenges of caregiving. Ensure you get a break by accepting help, from either other family members or professional services like Senior Helpers. A much-needed break will enable you to return refreshed, injecting your positivity.
Reassure your senior that they are a valuable member of the family and that they have something to contribute. A warm, bright disposition is contagious.
Eat Positively
Yes, what you eat can affect your mood. It's fine to indulge in your favorite dessert occasionally. In fact, it will lift your mood and contribute to positivity. However, a prolonged bad diet can affect mood. By contrast, a well-rounded, healthy diet contributes to mental well-being. For example, fruits that are high in zinc and B vitamins can ward off depression. The omega-3's in fish can also boost mood. Ensure your senior eats well.
Let Us Help
Senior Helpers in Milford understands the challenges of aging, on both the senior and their families. It's difficult to provide the in-home care they need. We're here to help. We provide the care you need, whether it's 24-hour home care, overnight senior care, or simple companionship. Contact us to find out more about our services in the Milford area.