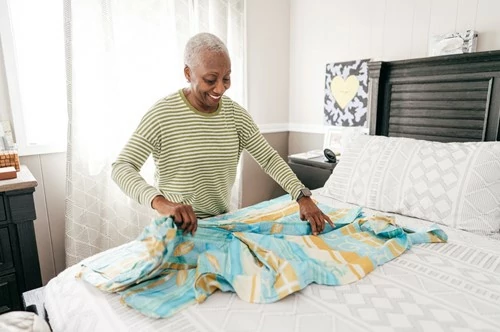 There are many benefits to seniors that live in Milford, Stoughton, Foxboro and the surrounding areas of Massachusetts that support reducing household bulk and decluttering. As we get older, it becomes more difficult to get around obstacles. Bending to reach under-the-counter storage, reaching overhead cabinets, or maneuvering around excess furnishings can all be reduced or eliminated with a bit of interior downsizing and decluttering.
Often, it is a live in home care aide that will notice dangerous obstacles for seniors in the home. These professionals are very familiar with the common trip, fall, lifting, and twisting hazards that are in overcrowded homes. Here are some tips for helping your senior family member declutter spaces to live a better quality of life.
1. Decide Between Trash or Treasure
Choose a weekend to enter each room and declutter those items that seem to be cluttering the senior's space. This could be shoes and clothing, magazines and books, tabletop decorations, small kitchen appliances and gadgets, past hobby or recreational gear. Don't forget area rugs that can cause a trip hazard and excess furnishing that are blocking pathways within or between rooms.
Some items that hold sentimental value should be kept, but maybe they simply need to find a new place in the home that is less obtrusive. Treasures such as old photos and family documents can be set aside as a future project for either digitizing, placing in a storage unit, or given to family members for safekeeping.
2. Donate What Is No Longer Useful
Your senior companionship or home health aide is the perfect person to help decide what should be donated to charity. This is because they don't have the same emotional attachment and are looking at what things will best suit the senior as they go forward. A good rule-of-thumb is if it hasn't been used in two years - donate it. Many kitchen appliances and old hobbies fit this category.
Another thing to consider is to donate those items that are duplicates or in excess (like too many shoes and purses), are of low quality, or no longer bring the owner joy.
3. Legacy Gifting of Family Heirlooms
It is no surprise that the home of many seniors will have many of the family's valued possessions including birth certificates, ancestral photos, recipes, diaries, letters, scrapbooks, bibles, quilts, and other collectibles. However, as seniors age in place, these valuables can become a hazard, lost, damaged, or an incentive for theft. This is a great time to discuss passing on these sentimental valuables to other members of the family for safekeeping.
Make this day a fun day, where the family gathers to discuss the history of these legacy items and the need to keep them safe and in the family. Consistent senior care involves exploring all the ways your senior loved ones can be made to feel happier and healthier. Declutter and downsize to step towards a simpler and more fulfilling lifestyle.
To learn more about around the clock care for seniors in the Milford, Stoughton, and Foxboro areas, contact Senior Helpers to discover how we can help.