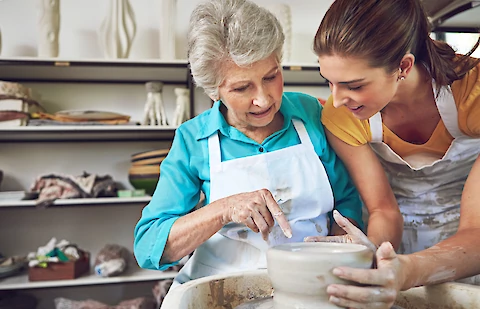 How Crafts for Seniors Can Make a Difference
There can be no doubt that positive thinking is the key to maintaining a high quality of life, especially for seniors. Consequently, keeping Milford seniors engaged and thinking positively is a core component of our work at Senior Helpers in Milford. We want seniors to make the most of their lives every single day by finding joy in the small things and relishing inspirational moments. One way to encourage this is through crafts for seniors.
Making Art Can Be Hugely Beneficial For Seniors
Crafts are a wonderful way to foster space and time for joy, something that contributes positively to a senior's quality of life. But crafts also have tangible benefits for the mind and body as well. For instance, studies have shown that art can help ease symptoms for people dealing with dementia or Alzheimer's disease. Research has also demonstrated that art-making reduces anxiety and depression, encourages humor, laughter, play, and socialization, and ultimately nurtures positivity, relaxation, and self-esteem.
Encourage Crafts that Allow Seniors to Tell Their Stories
For many seniors, the idea that their stories will be lost to time is a scary one. Moreover, if dealing with issues related to memory, some may not be able to share their stories the same way they used to. Crafts are a low-stakes way to preserve stories, mementos, and memories creatively. Here are a few ideas:
Decorate the border of note cards with colorful doodles and then write down favorite recipes.

Decorate a picture frame to hold a beloved family picture or a memento box for keepsakes.

Paint a landscape of somewhere from their past that they remember well.
Use Crafts to Exercise Dexterity and Fine Motor Skills
One benefit of crafts for seniors is the way they encourage people to use fine motor skills that they may not use as often anymore. It is, of course, important to tailor the craft to an individual's current abilities, but craft-making can be a lovely way to exercise those skills without too much pressure for those having trouble. Some options include:
Use glue and some buttons, pebbles, or beads to make a mosaic.

Use sharpies to customize a coffee mug.

Paint garden rocks to look like little creatures, such as ladybugs or frogs.
Enjoy Craft Time as Social Time
One of the best parts of doing crafts is how it often corresponds with more socialization—both for the senior you're caring for and for you as caretaker. It can help address boredom or ease tensions by giving you both something positive to create together. Here are a few social craft ideas:
Work on a quilt or cross-stitch project together.

Decorate cookies to give to family members or friends.

Work together to make decorations for an upcoming family holiday.
We're Here for You
Aging can be a challenge and so can senior caretaking. At Senior Helpers in Milford, we truly get it. We all want to make sure our loved ones have adequate in-home care, but it's okay if you need assistance in that process. We are here to help, whether that means 24-hour home care, overnight care, or even just a bit of companionship. We proudly serve Milford, Stoughton, Franklin, Walpole, Webster, and Foxboro. Contact us to learn more about the services we provide to help seniors in Milford and the surrounding area.