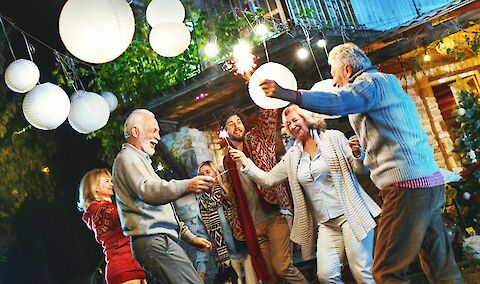 7 Fun Activities for Seniors in Milford-Franklin, MA, This Holiday Season
The December holidays are about spending time with family and enjoying activities in the neighborhood. It can be fun-filled for seniors, even if they have physical limitations. This article has rounded up seven fun December holiday activities and events for seniors living around Milford-Franklin, MA, to enjoy. The guide below highlights fun, festive activities for seniors who want to fill their December holidays with a perfect mix of fun events and activities.
1. Visit Gillette Stadium and Admire the Holiday Decorations
The holidays are an excellent time for seniors to get out of the house and take a walk while viewing the vibrant light decorations. Seniors with mobility challenges can still enjoy holiday light displays with a bus tour around town. Homes and businesses in Foxboro like to outshine with December holiday lighting. The Magic of Light sets up unique Christmas light displays that are available for viewing from 5 pm to 10 pm. 
2. Play Holiday-themed Games
Holiday-themed puzzles are a great way to bring seniors and their families together as they create new memories. Propose to attend the Family Puzzle Fun nights happening on December 28th at Plainville Library. During the event, residents can bond and meet new friends. 
3. Visit a Specialty Museum
Seniors can visit Sharon Police and Fire Museum with their families. The museum is fun-filled for all seniors to immerse themselves in its wonders.
4. Attend Local Events in Webster
One way to cheer a family member is through gifts. This is the chance for seniors who want to honor the gift-giving season. The Fuel Fest: A Holiday Coffee and Care Gift Market will be hosted at Cafe Neelu, allowing vendors of various specialties to display their items. This will allow seniors to shop for gifts for their loved ones. 
5. Watch Henry the Juggler on December 29th
Attending plays is a fantastic way of keeping seniors engaged. Seniors can attend this juggling show at Foxboro's Boyden Library. This offers them a chance to catch the local show with their family members as Henry juggles several balls and plays fire tricks. The show also offers an incredible experience as they enjoy live music and plays. 
6. Enjoy a Meal at Caribbean Cuisine with the Jeanty's
Sharon has a lot to offer for seniors interested in learning and experiencing other cultures. Seniors can enjoy Caribbean cuisines with the Jeanty's for as low as $30. One can experience the taste of a new meal and bond with family while at it. The location is wheelchair accessible and has near public transportation. 
7. Watch a Holiday Movie at the Milford Independent Cinema and the Milford Theater
Of all the December holiday activities for seniors in Milford-Franklin can do, watching holiday movies is probably the most delightful. Nothing gets seniors as engaged as watching a good movie with the family. Watching holiday-themed movies at the local theater is a tradition that never gets old. Get some hot chocolate and popcorn ready for a fun movie night. Some of the movies that families can watch include Puss in Boots: The Last Wish, Annie, and A White Christmas Cabaret.
Senior Helpers Milford-Franklin aims to make seniors' lives as comfortable as possible. Senior Helpers Milford-Franklin offers in-home professional caregiver services to seniors living around Milford, Franklin, Stoughton, Webster, Foxboro, and Sharon. If your loved one needs extra care during the December holidays, consider including us in your plans. Contact us today.