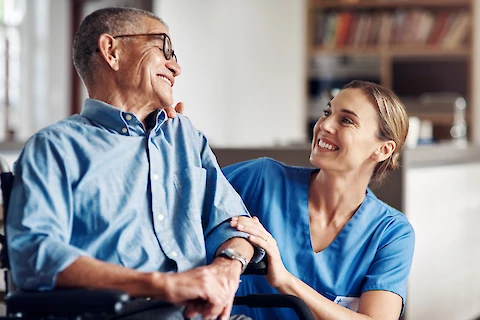 Professional In Home Care
Caring for someone and assisting the elderly with their senior care needs outside the traditional hospital setting is not a new idea. Well before modern medicine, people were cared for at home out of necessity. Caretakers of past generations usually consisted of family members or friends. Today's generation might find that there are so many daily responsibilities with their children, work and other family obligations that they find it difficult to tend to the needs of an elderly loved one. This may make senior care responsibilities a stressor on you and your family. The newest senior generation has expressed a desire to remain independent yet live with dignity in the comforts of their own home. Professional in-home care for senior and elderly from Senior Helpers of Florence makes it possible for your elderly loved one to live independently in their community.
If you find that you want more peace of mind when it comes to your elderly loved one taking their medications on time, but are unable to make the daily visit, in home assisted living might be the answer to your needs. A compassionate and responsible caregiver will be the daily medication reminder and will also be sure that your loved one is also eating a nutritious meal. When life gets hectic, it's nice to know that your loved one is not alone for long stretches of time. Companionship is an added bonus of in-home assisted living.
Life can get pretty hectic sometimes. If you have been taking care of an elderly loved one through the summer, when life tends to be a bit more relaxing, you may find that the daily grind is making it difficult to regularly visit now that fall is approaching. Many children are back in school; summer vacation is over. If you are also working a full-time job, it is understandable that attempting to balance all responsibilities can get tricky.
If you are concerned about your elderly loved one and their ability to remember to take their daily medications, there are some tips to keep them on track. Medication reminders don't have to be tremendously extravagant to be effective. Something as simple as a sticky-note on the refrigerator to help your loved one remember to take medicine with food can be very helpful. Another helpful tool for medication reminders is a weekly pill box. This pill dispenser helps to keep your loved one on track with remembering if the daily required pills were taken. The bonded, insured and screened caregivers from Senior Helpers of Florence can also be there to remind your loved one to take their daily medications as well!
A shift in health care toward reduced hospital stays and a steadily increasing number of older people are both factors that make professional in-home care for seniors and elderly a growing part of today's health care industry. Senior Helpers of Florence, 859-283-5500, offers professional in-home care for seniors and elderly to Ft. Mitchell, Edgewood, Crestview Hills, Union, Villa Hills.
Professional in-home care for seniors and elderly includes companionship, transportation, Alzheimer's and dementia care, and personal care services. Personal care services can include all activities of daily living such as grooming, hygiene, dressing and eating. Your loved one will appreciate the privacy of having their senior needs tended to in their own home instead of in an institutionalized setting where they might feel like just a number on a long list of other clients who need service.
For more information about the professional in-home care for seniors and elderly services available to your area, call Senior Helpers of Florence, 859-283-5500, to speak to a specialist today.