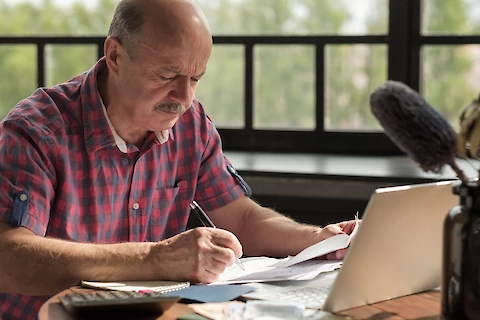 Tips for Helping Seniors Manage Important Paperwork
They say that wisdom increases with age. So does the amount of mail and paperwork that you receive. The older you get, the more important medical and financial documents you'll receive. It can be hard to keep all that incoming information straight. That's why Senior Helpers of South Indianapolis provides valuable senior companionship services designed to help you or your loved one keep track of all your critical documentation.
Important Types of Paperwork
Even though we live in the digital age, it seems like there's more incoming paper than ever. Sometimes the flow of documents seems more like a deluge than a stream, but there are generally four types of critical documents that seniors should always keep careful track of:
Financial documents

Insurance documents

Medical information

Advance directives
The type of documents that need the most attention and scrutiny are financial documents. These range from retirement funds, checking and savings accounts, pensions, stocks and bonds, monthly bills, and tax documents.
The frequency of medical paperwork also tends to increase with age. Seniors have to keep careful track of Medicare and Medicaid information as well as supplemental insurance coverage. They also have to keep a thorough record of any medication that they take. Live-in caregivers should be provided with that information in case of an emergency.
Finally, critical advance directives, such as a will, power of attorney forms, and healthcare proxies, need to be kept somewhere safe in case of hospitalization or another emergency.
Tips to Help Your Loved One Stay Organized
Everyone has a different strategy for keeping their lives in order. Some strategies work better than others. It's the job of whoever provides senior companionship to help the senior implement a plan that works for them.
For some, a simple calendar with reminders to periodically address bills and review statements will suffice. Other people require a more structured approach. Some of the better organizational tools we've seen include:
Locking file boxes

Cascading wall organizers with file pockets

Combination desktop letter holders and paper trays

Hanging file folders

Portfolios


Another great solution involves setting up a wall-mounted corkboard. A corkboard lets you pin all documents which require action so that they are easily visible, but not easily forgotten.
The point isn't which organizational tool looks best; it's whichever system helps to keep essential files neat and orderly. However, there are a few best practices to keep in mind when deciding how to keep track of essential paperwork.


Decide on a system and stick with it

Make critical documents highly visible

Color code items to differentiate them

Develop a secondary reminder system such as a calendar, posted schedule, or email alert


If the senior in question is technologically savvy, most of these functions can be done using computer programs. If they aren't, the aide providing senior companionship may assist if the resident wishes.
Helping Your Loved One, Any Way We Can
Here at Senior Helpers of South Indianapolis, we believe in helping your loved one in whatever way we can, from assisting them with their activities of daily living and helping them with simple household tasks to stay organized. If you have a loved one in Greenwood, Columbus, Franklin, or the surrounding areas, please contact us to find out how we can help.