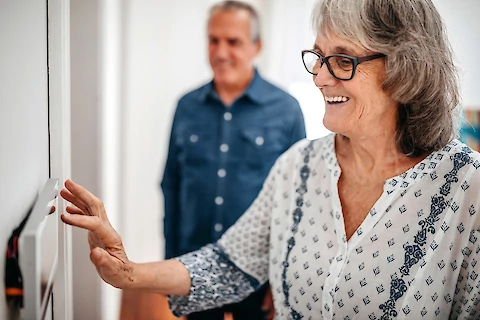 If your senior loved one is independent enough to live alone or with a spouse, it's important to be proactive when it comes to the safety of their home. Their home should be a place of comfort and security. Even the smallest accident can be detrimental to your loved one's physical and mental health. Senior Helpers is dedicated to giving consistent senior care and providing you with helpful resources for your senior, so here are six home safety tips to properly prepare your elderly loved one's living space.
Create a List of Emergency Numbers
As we age, our minds can sometimes forget even the most common things. Keep a list of emergency numbers near the phone or on the fridge to ensure your loved one is able to get help when needed. Phone numbers of physicians, close family members, and poison control are all useful to both your loved one and any visitors who may need to help them.
Check for Fall Hazards
As we age, our mobility functions start to decline. Be sure to clear all hallways and stairwells of loose items and clutter. Decorative rugs tend to fold in the corners over time, making them easy to trip over. Creating an open space will allow for easy mobility. If there are any hardwood floors, consider providing them with non-slip socks and shoes.
Protect Against Scams
Unfortunately, the elderly are vulnerable to scammers and theft. Inform your loved ones to never give money to someone over the phone or via email unless they consult with you first. Installing an easy front door camera will allow them to discern whether guests are soliciting money or information, or if they are possible intruders.
Safe-Guard Bathrooms
Bathrooms, which are prone to slippery surfaces, are also where most people keep their medicine cabinet. Installing a medical-alert device in the bathroom may prevent serious injuries in the case of a slip which may leave your loved one unable to walk to the phone. Rubber mats, bathing chairs, and grab bars in the bathtub will also assist elders in navigating these spaces safely. Additionally, make sure that the medicine cabinet is well-organized and labeled properly. You can even have the pharmacist print labels with larger lettering so medications don't get mixed-up.
Assess the Lighting
Installing a clap-light or motion-lighting technology will make it easier for your loved one to see without fumbling for a switch. These push lights can also aid by providing additional lighting in darker, less accessible areas of the home. Avoid purchasing too many lamps and try to place them in an area where the cords aren't exposed, posing a tripping hazard.
Prevent Fires
Fires spread fast. But they can be prevented if the right measures are taken. Avoid space heaters if possible. If space heaters must be used, keep them clear of anything flammable. Invest in a connected smoke alarm system that is installed in every room of the house. This way, if a fire starts in one area, all alarms will go off. Rather than burning candles use oil diffusers or purifiers. Have fireplaces or stoves inspected annually.
Taking steps to ensure seniors are living as safely as possible will bring you peace of mind and your loved ones a proud, independent life. Head to our blog for more home safety tips for seniors and other ways to provide around-the-clock care to the seniors in your life. If your loved one lives in Indianapolis, Greenwood, Columbus, or the surrounding areas contact Senior Helpers of Greenwood and South Indianapolis to hear about more helpful tools and insights on living a long, joyous life.