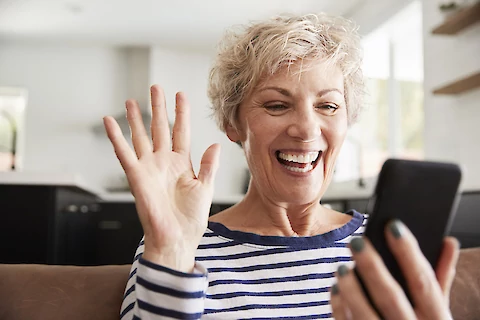 Five Ways to Stay Connected with Seniors
During these unforeseen times, it can be difficult to stay connected with seniors who must avoid face-to-face interactions. Still, the inability to interact with others often leaves seniors feeling lonely and isolated.
Along with round-the-clock care provided by Senior Helpers of Greenwood and South Indianapolis, we assist when family members are unable to check-in with their loved ones. Phone calls are important, but the desire for connection goes much deeper. Below, we share five creative ways for you to stay connected with seniors you know and love.
Hand-Written Letters
Make grandparents and grandkids pen pals, and encourage them to write letters to each other. With our collective obsession for digitized communication, it's easy to neglect the amount of thought and mindfulness it takes to hand-write a letter.
While we encourage staying in touch virtually, seniors may experience a more meaningful connection when they share personal stories and heartfelt messages on pen and paper. Plus, seniors will appreciate the sentimental value of hand-written letters from their beloved grandchildren.
Netflix Party
Have a virtual watch party. Use Netflix's new feature to watch movies together and share thoughts about the movie throughout. Make it fun for seniors by watching a movie they used to love back in their day. Pop some corn and munch on your favorite candy as you watch in sync with this free application (Netflix account needed).
Care Packages
Care packages are a unique way to surprise your loved ones and show them that they are on your mind. Take some creative photos with the family while holding signs that say "We love you." Or, put together a photo album of nostalgic pictures from the past.
Be sure to add some favorite snacks or easy recipes they can follow at home. If your senior must limit outdoor activities, include word games, crossword puzzles, and books they will like. Another fun thing you can pack are seeds to start their own herb gardens. This will keep them busy and excited as they watch their gardens grow.
Online Story Reading
Create wonderful memories with Grandma and Grandpa by having them read to their grandkids virtually. Readeo makes it easy for families to share story time together.
Studies show that reading can positively impact a child's development. So, grab a book, flip through the pages together, and let your imaginations run free during this time.
Window Visits
Whether your senior family members are at home or in a facility, having scheduled window visits is a safe way to spend time together.
Have the kids make fun signs and chat on the phone as you wave to them from the outside. If sitting on the porch is an option, set up some lawn chairs for everyone. Bring sidewalk chalk to keep the kids entertained and enjoy a cool summer night outside with family.
Above all, make extra phone calls and get creative as you stay connected with seniors you love. Socializing is an important component of mental health, especially during these turbulent times.
Senior Helpers of Greenwood and South Indianapolis is dedicated to providing excellent care services to improve the lives of seniors. Contact us today to hear more about our comprehensive suite of programs and services in Indianapolis, Greenwood, Columbus, Franklin, Martinsville, and Shelbyville.