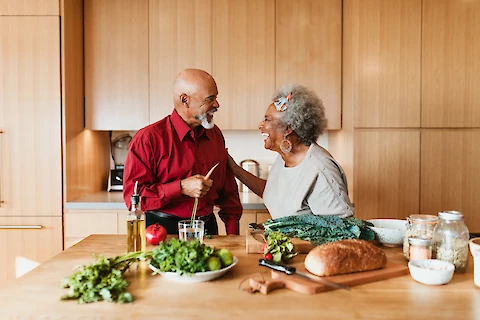 6 Healthy Foods for Seniors
As we age, it is important to understand the benefits of certain foods and how they impact our changing bodies. Age-related issues may arise that influence how and what we eat. Lack of resources and physical and mental challenges are just a few conditions to factor in when it comes to caring for the elderly and considering what they need to elevate their quality of life. Along with these six foods to enjoy, Senior Helpers also recommends staying active to achieve your most joyous self.
Fish
Tuna and salmon are high in omega-3 fatty acids, which help reduce inflammation, thus improving mental health and brain function. Canned tuna is a simple and accessible ingredient that you can make a variety of meals with. Take this spin on a regular tuna sandwich by adding cheese on sourdough bread. For a light snack anyone can make, try these delicious tuna cucumber chips.
Kale
We know kale can be bland and boring, so hear us out! This green vegetable is a superfood rich in nutrients such as potassium and calcium, which is excellent for bone health. Perhaps your loved one has dental issues that make it uncomfortable to eat harder foods. Try this refreshing smoothie recipe that's gentle on the gums and loved by taste buds. Feel free to add other fruits and veggies to make it your own.
Dark Skinned Fruits
Fruits are full of antioxidants that protect the cells in your body from free radicals that cause disease. All fruits, and especially dark-skinned fruits, contain a high level of antioxidants. Blackberries, blueberries, strawberries, plums—all work at helping your body fight off chronic conditions and improve brain function. Here is another fruit-based smoothie recipe to cool you down during these warm summer days.
Beans
Lentils, black beans, soybeans, and kidney beans are full of fiber that promote gut health and regular bowel movements. As we age, the gut microbiome changes, which can cause bowel irregularity and impact our immune system. Along with gut health, fiber aids in improving cholesterol and blood pressure. Beans can be intimidating, but there are many fun recipes to try, like this comforting vegetarian chili.
Oats
Oats are a multifaceted ingredient found in many dishes and another food rich in fiber. They also support heart health and blood sugar. Whether you eat them plain with yummy vanilla yogurt or decide to have some fun baking, a bit of oats can go a long way. Check out these 50 recipes you can make with this cost-efficient ingredient.
Nuts
A quick and effortless snack is a handful of almonds, pistachios, or walnuts. They are packed with good fats, fiber, and protein. Snacking on nuts rather than carb-filled foods makes you feel fuller, longer.
When factoring in these wonderful foods, be sure to look at labels. If your circumstance allows, stray from added sugars and processed versions of these ingredients. Gravitate towards whole grains when you make sandwiches or pasta, and always drink enough water! If you need something more exciting, ginger tea will keep you hydrated and give your immune and digestive system a healthy boost! Youth is measured by how you feel, and Senior Helpers believes you and your family deserve to feel joyous and healthy.