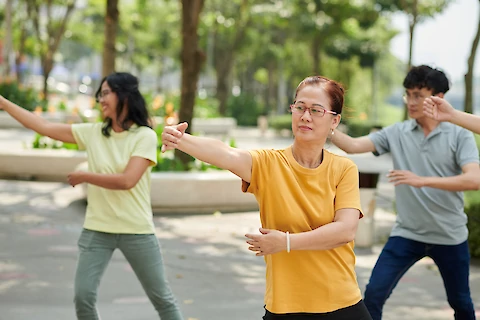 Living a healthy lifestyle can be an intimidating task, especially for seniors. However, repeatedly engaging in physical activity has been proven to keep our bodies and minds strong and active as we age. Multi-generational fitness groups come with their own inherent benefits that make living a healthy life much easier! Plus, seniors can enjoy support and encouragement from others on their own fitness journeys.
In this article from Senior Helpers Chesterton, learn how you can find such groups around Valparaiso, Portage, Chesterton, Westville, Michigan City, Beverly Shores, Hobart, LaPorte, and Lake County areas.
The Benefits of Joining Multi-generational Fitness Groups
Adopting a healthy lifestyle and fitness routine as a senior can come with its own set of challenges. By joining multi-generational groups, you will gain the education and motivation related to living longer, healthier lives than other generations. Seniors could benefit from having people of different ages that are eager to support them in reaching their goals and transforming into new healthier versions of themselves!
Ask Friends and Family
The best way to find multi-generational fitness groups that are convenient and tailored to your interests is by asking your friends and family. Your loved ones may already be experienced in knowing what the area has to offer, from local gyms and instructors to regular meetup routines designed for seniors. Reach out to them for insight on getting started, and explain to them why you are interested in starting your own health and wellness journey.
Ask Your Doctor for Recommendations
Another way to find multi-generational fitness groups is by asking your doctor. This gives you access to verified, scientifically proven facilities and programs that have met a certain level of safety and standards. Most physicians are informed on the latest health studies, trends, and workout fads. This makes them especially qualified to determine what type of routine would be best geared toward seniors' activity levels and interests.
Search Online
Finally, consider researching on the internet. Local senior centers might advertise certain exercise groups and list all the information that you will need to get started, such as meeting times. Social media is also a great source for finding local meetups in your area. If you are at loose ends after looking around online, consider posting a question in a Facebook group, asking for suggestions on groups or classes. This way, you are sure to find some great options that are located close to you!
Senior Helpers Offers the Best Senior Care
Living a healthy lifestyle is possible, even as a senior. Finding the right fit when it comes to fitness groups will help keep you motivated by building positive social relationships and providing you with support through all the stages of your journey. Start your journey to finding the right multi-generational fitness group today.
Senior Helpers Chesterton provides premium senior care for all adults, regardless of their interests or health journeys. Contact us today to learn more about the services that we offer!