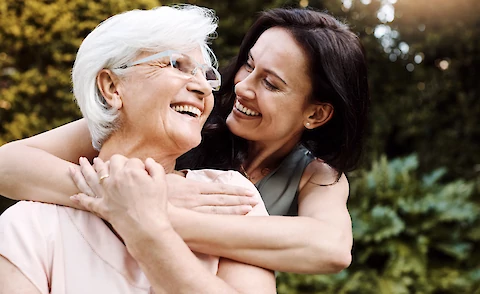 How to Avoid Battles with a Senior You're Caring For
Nearly anyone who cares for an aging loved one has dealt with a battle of wills over chores and activities. If you are providing care for an elderly parent or spouse aging in place in Michigan City, we at Senior Helpers understand the pain of power struggles and how battles with a senior can negatively impact happiness.
Below, we've put together a list of tips to help you sidestep the battlefield and focus on maintaining a positive relationship with your loved one.
Understand that Conflict Begins With a Difference in Perspective
Your biggest concern is likely the health and safety of your loved one. But for seniors, feeling independent and capable is key.
Disabled parents or spouses may be grieving over their loss of freedom and independence. They may show this through outbursts of anger and view your "help" as an attempt to take control of their lives.
For you, it may be difficult to recognize this when you feel resentful and unappreciated.
Take a Step Back from the Battle
Arguing may make the other person dig in their heels. Don't fight for control because this makes the other person feel incapable and more justified in fighting back. Instead, work on building your relationship in ways that create a path around the obstacles.
Respect The Tenacity of Seniors
Take the time to recognize your senior's battle for control as a struggle against failing abilities. Wouldn't you rather deal with an obstinate senior rather than one who gives up easily and loses interest in life? 
Although you may worry about physical safety, your loved one's psychological well-being rests on engaging in life with a sense of freedom and purpose.
Help Your Loved One Feel Needed
Instead of asking if your loved one needs help with chores or insisting in doing the yard work for them, ask if they'd give you a break by entertaining the grandkids for a while. In return, you can sneak off and do the dishes. Or, ask for help on a sewing project while you make a grocery run. You can also tell them that the grandkids need some pocket money and would like to mow the lawn in exchange for cash. Receiving help may lead to negative moods, so find a way to let your senior give help instead.
Find Activities To Enjoy Together
This may be as simple as listening to music or watching a movie together while you tidy up the house. Look for a volunteer project you can do together. Or, enjoy a walk that offers a change of scenery. Whatever you do, be sure to thank your loved one for the time you spend together. Avoid giving the impression that your loved one is just a "to-do" item on your list of responsibilities.
Seek Help From a Reputable Senior Care Agency
Senior Helpers of Michigan City provides full-time or companion care wherever your senior lives, whether at home or in an assisted living facility. Having social connections is a big part of feeling cared for. Professional caregivers can offer your senior needed companionship when you're unavailable.
Don't Ask, Just Show Up
Instead of offering help and getting rejected, just show up. Find an excuse, such as dropping off a delicious meal your loved one can enjoy for dinner. Or, ask if you can borrow something. Your loved one will probably see through your excuses, but it will help preserve their dignity. Many seniors see asking for help as a sign of weakness. So, be tactful in both your words and actions.
Seek Compromise
Battles with a senior may be inevitable. Consider the battle of wills you had with your parents as a teen. When seniors shift from being a caregiver to being a dependent, they may feel a loss of autonomy and control. 
But, if you can respect their need to feel capable, competent, and in-control, even when it endangers their physical safety, you are more likely to find compromises that satisfy both their psychological and physical needs.
For more information about senior care, in-home care, or companion services in Michigan City, contact Senior Helpers. We specialize in assisting with daily activities and providing personalized care for people with Alzheimer's, dementia, Parkinson's and other chronic diseases. If you're looking for care services for a senior or spouse, we serve Michigan City, La Porte, Valparaiso, Portage, Lake County, and Hobart.