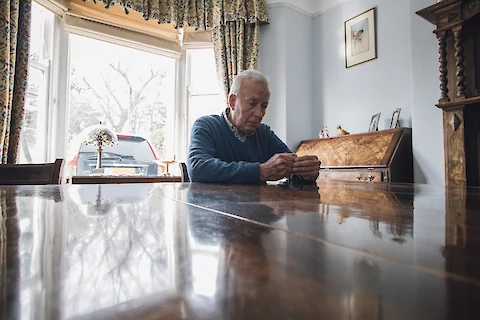 As the years go by, our circles of friends become smaller, and it becomes difficult to meet or talk to new people. So, when a senior loses a close friend or moves to a new place, say, Peachtree City, it is easy for them to feel lonely and socially isolated.
Seniors could be lonely and socially isolated even if they don't say it. Statistics reveal that one in four adults over 65 is socially isolated.
At the surface, they may seem sad or moody, or if they're good at masking it, silent and reserved. But deep down, loneliness and isolation could be the issue; a trained eye can detect them after studying them. If their caregiver doesn't bring up the concerns and possible solutions, it can have some health implications.
Health implications of loneliness and social isolation
Apart from reducing the overall quality of life, social isolation and loneliness are linked to a higher risk of a variety of physical and mental conditions, such as:
High blood pressure
Heart diseases
Obesity
Premature mortality
Anxiety
Cognitive decline
Depression
Weaker immune system
Alzheimer's disease
The longer the senior remains lonely and socially isolated, the higher the risk.
How to bring up the health concerns of loneliness for senior loved ones
Even with all the apparent health concerns, loneliness among senior citizens remains a sensitive issue.
So, the senior caregiver shouldn't spring up all these health concerns out of nowhere and tell the senior what they should do next. The senior could see it as a negative and fatalistic attitude toward aging, causing them to shut themselves off.
The do's and don'ts below should help you bring it up correctly and convince them to pursue solutions.
Do's
Encourage visitation
Instead of sitting with them and discussing loneliness, you can encourage family and friends to visit them. It provides a solution to the health concerns without having to talk about them!
Inclusion
As you hold family gatherings or attend any appropriate events in Peachtree City, invite them to make them feel included.
Volunteering
There are several volunteering opportunities in the Peachtree City area. It allows them to make new friends and get a new purpose.
Exercising
Persons over 65 need a certain daily activity level for a higher quality of life. Encourage them to join exercise groups for seniors. 
Try in-home care
In-home care, while used mainly by seniors with chronic diseases, can also be used by seniors who need companionship and help with day-to-day activities. Even if the adult can handle most things alone, the caregiver helps alleviate the loneliness.
Don'ts
Encourage them to socialize all the time
Alone time is good, and most people enjoy their time alone as they age. So, as they fight loneliness, ensure they have a few hours per day or days per week where they can focus on themselves.
Exert too much energy
Try to find appropriate socializing activities for their age, condition, and level of activity. Finding them a soccer club to join instead of a painting class could make them exert too much energy.
Overlook other factors that contribute to loneliness
Sometimes, loneliness is contributed to by chronic illness, loss of family or friends, hearing loss, etc. The first thing you should do is address these factors before encouraging the activities above.
How will it benefit them?
When bringing up the health concerns of loneliness for seniors, remember that the goal is not to point out the solution to the problem but to help them understand how the solution will benefit them. Helping them see it from that point of view could make them put down their guard and be open to pursuing solutions.
If you or a senior loved one lives in Peachtree City, Atlanta, Newman, or Fayetteville and are looking for in-home senior care services, Senior Helpers can help you. They offer services ranging from specialized care for those with chronic diseases to companion services for seniors seeking assistance with daily activities.
Contact us today.