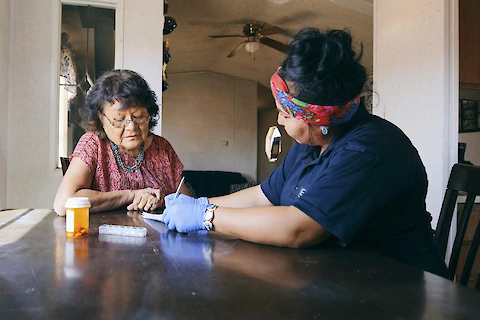 Is Caregiving Covered Under Medicare?: Frequently Asked Questions
Medicare can provide financial assistance for certain types of in-home senior care, but there are also many services that it does not cover. It is important to understand the extent of coverage when seeking caregiving services for your loved one. This article will answer some common questions about what types of caregiving are covered by Medicare and which ones aren't.
What is Caregiving?
Caregiving is the process of providing care and assistance to someone who needs help with activities of daily living (ADLs) such as eating, bathing, dressing, toileting, etc. Caregivers may also provide medical services such as administering medications or wound care.
What Types of Caregiving are There?
There are many caregiving services, ranging from basic assistance with ADLs to more advanced medical care. Common types of caregiving include:
Homemaking and companionship services
Personal care services
Skilled nursing care
Physical therapy
Occupational therapy
Home health aide services
Medical equipment and supplies
What Caregiving Services are Covered by Medicare?
Medicare covers certain types of caregiving services, depending on the situation. You'll want to understand what services are covered to ensure you get the most out of your coverage. 
Skilled Nursing Care
Skilled nursing care includes services provided by a registered nurse (RN) or a licensed practical nurse (LPN). These services may include wound care, administering medications, changing catheters, teaching you how to manage your health condition, and more. Medicare Part A covers some of the costs associated with skilled nursing care. 
Physical Therapy
Physical therapy is covered by Medicare Part B. Physical therapists provide treatments and exercises to help improve your mobility, strength, and balance. They can also teach you how to use assistive devices, such as walkers or wheelchairs. 
Occupational Therapy
Occupational therapy is covered by Medicare Part B. Occupational therapists help you with everyday tasks such as dressing, bathing, and meal preparation. They can also advise how to modify your home environment to make it easier for you to move around safely and comfortably. 
Home Health Aide Services
Home health aide services are covered by Medicare Part A and Part B. Home health aides provide basic care, such as helping with bathing, dressing, grooming, and meal preparation. They can also remind you to take medications or help with light housekeeping tasks. 
Medical Equipment and Supplies
Medicare Part B covers some medical equipment and supplies, such as wheelchairs, walkers, oxygen tanks, and nebulizers. Medicare may also cover some home modifications to make it easier for you to move around safely in your home. 
What Caregiving Services are Not Covered by Medicare?
Medicare does not cover services such as transportation, errands, housekeeping, or laundry. These services are considered custodial care and are not covered by Medicare. Additionally, some home health aides may provide additional services not covered by Medicare. Ask your home health aide about what is and isn't included in their services before you sign any contracts.
Looking for Caregiving Services in Atlanta?
If you or your loved one needs caregiving services, ensure that you understand what types of services are covered by Medicare. Skilled nursing care, physical therapy, occupational therapy, and home health aide services are all covered by Medicare. However, there are many other caregiving services that Medicare does not cover. If you have any questions about what types of caregiving services suit you or your loved one, don't hesitate to contact Senior Helpers Peachtree City by calling us at 770-487-1297 or connecting with us through our website. We serve Sharpsburg, Senoia, Fairburn, Carrollton, Dallas, Lithia Springs, Villa Rica, Tyrone, Union City, Peachtree City, Newnan, Fayetteville, Douglasville, and beyond. We would be happy to help you find the best care solution for your needs.