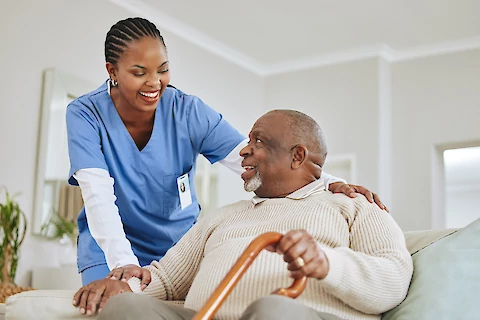 Finding the right caregiver for a loved one can be frustrating. It's hard to know just how someone will treat your loved one and whether they're a good fit. Even if a great caregiver is hired, if they haven't been properly trained to assist with a health condition, then they're likely not a good fit. To find the right caregiver, you need to know what your loved one needs.
How to Pick Your Caregiver and What to Look For
Many things go into picking a caregiver for your loved one. It's important to consider physical and mental health conditions, as not every caregiver is experienced in all conditions. Listed below are a few tips for choosing the right caregiver.
What are your healthcare needs? It's not uncommon for individuals to have one or more health conditions that require medical care regularly. You'll want to make sure your caregiver knows how to help with those conditions. This can include reminding a person when to take medication, physical therapy, or helping with hygiene care. 
Make sure to write a job description. Potential caregivers need to know what the duties and responsibilities include. In some cases, a licensed nurse or nurse assistant may be required. Include what help will be required and whether a driver's license and/or operating special equipment will be required. 
Consider what you can afford. At-home care can be expensive, but there are multiple ways to pay for it. You will want to choose a caregiver that's within your budget. If your loved one happens to be a veteran, they may be eligible for up to $2020 a month to assist with the cost of healthcare, including an in-home caregiver. Another option can be using whole life insurance. Some insurance agencies allow you to borrow money from what has been accrued over the years. You can also choose to pay out of pocket if that's what's best for you.
Perform a background check on each person you interview. Even if you plan on hiring a caregiver through an agency, it is important to perform a background check if the agency doesn't already conduct one.
Communicate with your loved one. If a loved one needs an in-home caregiver, you may consider including them in the process. They should feel comfortable about the choice that's made. Always keep them up to date on what's going on regarding in-home care if you're able to.
Senior Helpers
Senior Helpers is an agency in Peachtree City that provides non-medical home care for seniors. The in-home senior care provided by Senior Helpers also includes companionship and personal care assistance such as bathing, getting in and out of bed, and/or helping with other essential duties. They serve all of South Metro Atlanta, including Atlanta, Newman, and Fayetteville alongside Peachtree City. If this sounds right for you or your loved one, contact Senior Helpers today to explore your options.