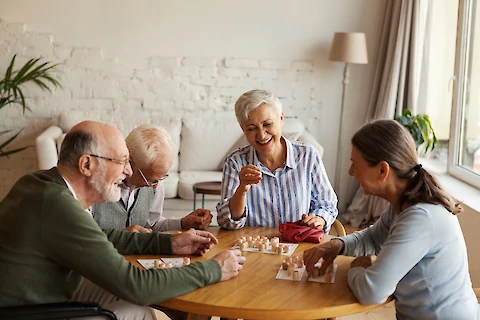 How to Find Local Friend Groups and Meetups with Shared Hobbies This Summer
Making friends is a great experience no matter what your age. Being able to find people who share similar hobbies and/or experiences can help a person feel more connected to your community and the amazing people within it. The season of summer is one of the best times to find local friend groups and meetups to attend, but how do you do it?
Join a Community Facebook Group
You can find community Facebook groups for almost any neighborhood, town, or city, especially in popular areas such as Peachtree City and Metro Atlanta. It's a great platform to find friend groups, events, and local places to participate in shared hobbies with others in the community. There are even a few groups on Facebook specifically made for seniors to make friends and share awareness of local happenings!
Check Your City Website for Local Events
City websites will often list events happening in your area. The website probably won't list every event happening in the city, but it's still a great place to start looking. Most of the time the events listed will be non-profit or city-funded meetups, advertisements, and events, but you might be able to find something great!
Do a Quick Search on the Internet
Searching the internet for events, meetups, or classes in your area can be a great way to make friends. It can be intimidating when it comes to actually showing up in person, but you won't regret it once you do. If there's a hobby you're particularly interested in, searching for a club or class is typically one of the best ways to find people interested in the same things as you. 
Start Up a Conversation
A more forward approach to making friends with shared hobbies would be striking up a conversation with someone. You may want to do this if you frequent the same shop as someone else, or if you find someone in the same aisle as you at a craft or other hobby store. Even walking in your neighborhood and striking up a conversation with another person can be a great idea. Don't be discouraged if a forward approach isn't your thing though! There are still plenty of ways to make friends in your area.
Attend a Religious Service
Even if you're not a religious person, learning about religion(s) can be interesting and fun. It's also a good way to make friends! Religious services are often full of social people who love to talk about anything and share their experiences. If you're a newcomer, people are generally welcoming and eager to introduce you to other members. So, get yourself out there and make some new friends!
Senior Helpers in Peachtree City
While all of the above listed are great ways to make friends, Senior Helpers, serving the Peachtree City and Metro Atlanta area, can also provide you with a caring and helpful companion. Your new companion may even be able to give you more helpful tips on how to find friends in the Peachtree area!