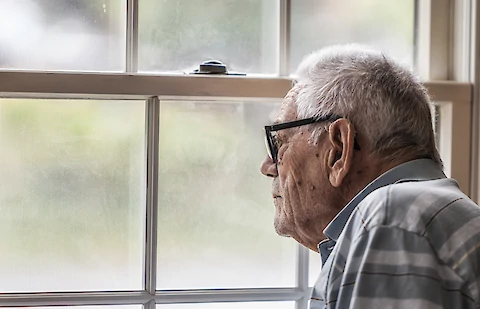 A change in season can bring dark skies, gloomy weather, and rainy days that can dampen the moods and interests of even the healthiest person. Foods they used to love start becoming unappetizing, and they become restless, irritable, and frequently lose sleep. While these are the most common signs of depression, they might also indicate a greater risk of Alzheimer's disease. Most people suffer from seasonal depression, but the effects can even be worse for our senior loved ones.
The growing evidence shows that seasonal depression, which is actually a treatable condition, is one of the greatest predisposing factors to cognitive decline and dementia. Yet, researchers have debated this relationship; their theories converge on the general agreement that the two conditions share common causes and that depression can worsen or complicate Alzheimer's.
What is Seasonal Depression?
Seasonal depression, commonly known as seasonal affective disorder (SAD), is a type of depression triggered by changes in seasons. It is apparent and more severe in the late fall or early winter. The disorder affects about 5% of adults in the US, especially in northern climates.
Although SAD can affect anybody, it is more common in younger people, seniors, and women. Other vulnerable groups include:
Those with other mood disorders like bipolar or major depressive disorder
Those with mental health disorders
People who live in cloudy regions that hardly experience sunlight during the winter
Effects of Seasonal Depression on Alzheimer's Disease
Most elderly loved ones with Alzheimer's are likely to be affected by the winter months and the fall because they have to battle the normal dementia symptoms alongside the seasonal affective disorder. During these seasons, it is prudent for the family caregivers or in-home care providers to include activities and senior treatment care programs that address the two health conditions simultaneously. Some exercises that can reduce Alzheimer's complications amid seasonal depression include:
Light Therapy
Expose seniors to the natural or artificially designed lights that ease the symptoms of seasonal depression. The practice is most effective when they are exposed to light at intervals throughout the day. This light causes changes in brain chemicals that are associated with mood.
Moderate Exercise
Regular low-impact exercises can boost blood circulation and brain chemicals like oxytocin that regulates mood. The exercises should be customized to meet the specific senior's needs. The in-home caregivers should choose exercises that go hand in hand with the seniors' hobbies such as nature walks, chair exercises, and yoga to make them feel comfortable.
Talk Therapy
Sometimes, talking makes people regain their mood and interest in most activities. Experienced in-home care providers have adequate training that can be applied to seniors with seasonal affective disorders to suppress their effects on Alzheimer's. They can respond to mood alterations in a kind and compassionate manner that reduces symptoms of depression.
How Can Senior Helpers Peachtree City Help?
Alzheimer's disease is the most common known form of dementia that causes cognitive impairment, especially when worsened by depression. If you have or know of a senior in Peachtree City, Atlanta, Newman, Fayetteville, and their surroundings suffering from Alzheimer's disease and other chronic diseases, Senior Helpers Peachtree City can help. As the leading senior service provider in the region, we work with seniors' families to create customizable, affordable, and specialized care to ensure our senior clients are aging in place. Get in touch with us today to get a comprehensive suite of programs and services for your senior loved ones.