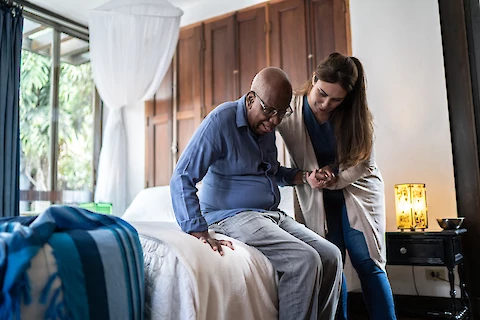 As a caregiver for a senior with dementia or Alzheimer's disease, your daily life may be difficult. You may, however, improve your Peachtree City home life by making a few simple changes. 
Once you include dementia-friendly design features in your house, your loved ones will have more freedom to use their abilities, improve memory, and lower the chance of falling. As a result, a well-designed home will undoubtedly benefit your older adults with dementia. 
Take a look at these 6 tips for making your Newnan or Atlanta home dementia-friendly. 
1.  Ensure That You Have Good Lighting in Your Home 
Allow natural light in by keeping window coverings open during the day and closing them only when necessary to conduct daily tasks. Maintain a clean window. The bottom line is that bright lighting allows you to see clearly and make sense of your surroundings. As a result, be sure nothing is blocking light from entering through the window. To eliminate reflections on the window and to signal that it is nighttime, close the drapes at night. This will also assist you in getting a better night's sleep. 
2.  Leave Doors Open or Place Simple Signs on Them 
Most seniors with dementia have trouble remembering where their rooms are in their house. It's thus critical to keep the inner doors open most of the time. If your older loved one is prone to confusion, simple signs or pictures with arrows might greatly assist them. 
3.  Keep Your Home Clutter-free 
Clutter might make it difficult for someone with dementia to see the stuff they require when needed. Remove any unwanted clutter and make sure cupboards and drawers are clean. The goal is to make it easier for your seniors to get to the essential items they use regularly. 
4.  Use Contrasting Colors with Minimal Patterns 
Contrasting colors like red, green, and blue have been demonstrated in studies to assist patients with dementia in noticing valuable objects more easily. Thus, you can use a red plate on a white placemat or paint the bathroom door blue or green. Avoid employing too many patterns when it comes to decor because it can have the opposite impact. It can, for example, cause visual distraction and make things more difficult to view. 
5.  Ensure That You Have Safe Flooring 
Tripping will be less likely if you have safe flooring. As a result, remove any rugs or mats and keep an eye out for other potential trip hazards, such as cables. To assist your seniors, make sure you can see the flooring well. Make plain Matte flooring your first choice above shining flooring, as shining flooring may easily generate confusion in the home. 
6.  Make Your Bathroom As Simple As Possible 
You can accomplish this by putting signs or pictures on your bathroom door. Additionally, roll your toilet papers and towels with a color that contrasts with the walls and remove items that aren't used frequently. 
Due to the key characteristics that must be considered, making your home dementia friendly might be difficult for most people. Senior Helpers Peachtree City, GA is here to assist you if you're having trouble adjusting your house to the changing needs of your older adult. 
Whether you live in Atlanta, South Metro Atlanta, Newnan, Peachtree City, Sharpsburg, Carrolton, Dallas, Lithia Springs, Villa Rica, Union City, Douglasville, Senoia, or Fayetteville, be rest assured you will benefit from our services. Get in touch with us to learn more about how we can assist you in making your house dementia-friendly.