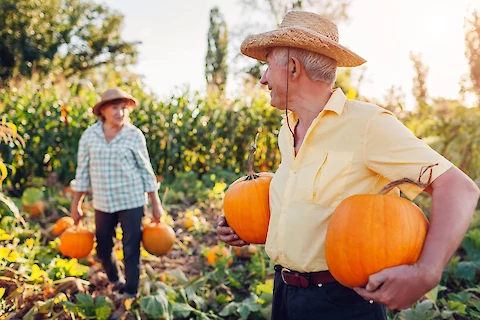 Halloween is a great time for senior adults to have some fun and celebrate. Yet, for a long time, the only way many seniors have participated in the holiday is by sitting on their porches handing out candy to trick-or-treaters. While there's nothing wrong with that, there are plenty of other ways to celebrate Halloween as a senior. Here are some ideas:
Take part in local Halloween events
One way to celebrate Halloween is by attending local events. Many Georgia towns and cities, including Peachtree City, Atlanta, Newman, and Fayetteville, have Halloween-themed activities throughout October. These are often published in local papers or online, so a quick search can help uncover nearby events. Some events may be geared specifically toward seniors, while others may be open to people of all ages. Here are a few examples:
Horror Tree Stories Presents: The Asylum Tapes Cocktail Hour in Atlanta, on Oct 30
Costume Contest and Craft Afternoon in Newman, on Oct 29
Trick or Treat on the Ranch in Peach Tree, on Oct 29
Watch horror movies or TV specials together
For seniors who don't want to leave the house, there are still plenty of ways to celebrate Halloween at home. One popular activity is watching horror movies or TV specials. This can be done with family, friends, or even neighbors. Make it a potluck and have everyone bring their favorite Halloween-themed dish. For extra fun, have a costume contest during the movie marathon.
Carve pumpkins or make pumpkin pies
Another way to celebrate Halloween at home is by carving pumpkins into jack-o-lanterns or making pumpkin pies. This activity can be done alone or with others. Seniors who choose to carve pumpkins should use safe tools and take their time. There are plenty of recipes online for those who want to make pumpkin pies.
Create and send a Halloween care package
For seniors with friends or loved ones who live far away, sending a Halloween care package is a thoughtful way to show love. One can fill the care package with Halloween candy, decorations, spooky movies, pumpkin-flavored treats, or anything else they think. They can also include a card with a personal message.
Have a spooky stories contest
For a Halloween-themed party, have a contest where everyone tells their best spooky story. This is a great way to get everyone in the Halloween spirit. To make it more challenging, set a time limit for each storyteller. The person with the best story, as voted by the group, wins a prize.
Play some Halloween games
There are plenty of Halloween party games seniors can play with friends or family. A few popular ones include bobbing for apples, Death Charades, Halloween Prize Wheel, Pumpkin Checkers, and guessing how many candy corn are in a jar. These games are fun and help get everyone into the Halloween spirit.
Halloween is a great time for seniors to get out of the house, have fun, and celebrate. And with these ideas, they can do just that. Senior Helpers in Metro Atlanta offer home care services to help keep seniors safe while celebrating the holiday. Visit our website or give us a call today to learn more!