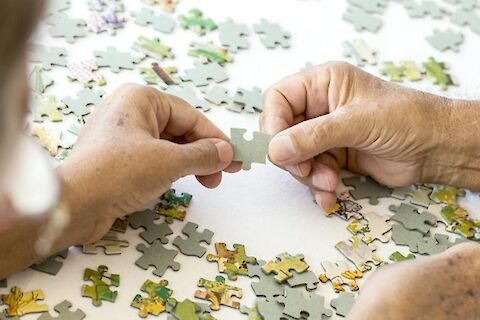 When your loved one has dementia, it can be a challenge to keep their attention for an extended length of time. Games and activities are a great way to stimulate their mind and keep their attention while spending fun, quality time with you.
But, when it comes to a dementia-related illness, such as Alzheimer's Disease, not all games are created equal. There are plenty of activities that you can do together, especially games that will inspire your loved ones and increase their general quality of life.
What Games For Seniors Should You Emphasize and Deemphasize?
Alzheimer's and dementia patients have certain skills they need to focus on practicing and retaining. Our loved ones need exercise, physically and mentally, to stay healthy. It's effective to choose games that stimulate the senses and allow them to create something tangible. Incorporating music can be helpful, especially nostalgic music that can lift their mood. The best activities are interactive, social, and fun.
It's best to stay away from heavily cognitive games, with detailed instructions and small details. The confusion can cause irritability and a swift end of the game. The games should be low pressure and without stressing time limits and uneven scoring. Always consider their physical capabilities when involving your loved one in a somewhat physical game, such as throwing a ball.
Examples of Activities
When playing any of the games below, be patient and explain the directions clearly at the beginning. Remind them about the rules gently when necessary, preferably in a way that doesn't emphasize anyone's mistake, but encourages everyone to follow the same rules while having a great time together.
Board Games: Candy Land, Trivial Pursuit, The Game of Life, Clue, and Sorry are great board games that your loved one may be familiar and comfortable with.
Card Games: War, Old Maid, Go Fish, and even Solitaire are still on the table, along with Uno, Gin Rummy, and Hearts, among many others.
Puzzles: Depending on the stage of their disease, begin with a relatively higher number of pieces and decrease as needed. 
Electronic Games: An IPad, Kindle, or some other tablet all have great games that our loved ones can play whenever they want. The technology factor makes them feel caught up with the rest of the world.
Enrichment Activities: Word searches, sheets of bubble wrap, painting, and even sorting things based on color and/or shape can all help shape the senses and enrich their world.
It's also a great idea to cook together, go for walks while they are able, and generally get out in nature. If you have the time, something like a petting zoo or crafting classes dedicated to dementia can be great for the mind. Swimming and water aerobics are also excellent choices to stay active and engaged.
Things To Consider
As your loved one's needs change, so will the games you will get to play with them. Many can evolve with your loved one while others may need to be replaced with something new. Don't be afraid to stop the game at any time if your loved one gets upset and you can take short breaks if you notice that they are overstimulated.
Caring for a loved one with Alzheimer's disease or dementia can be difficult, emotional, and draining. But it can be a beautiful experience when approached in the right way. While we don't have all the time in the world to spend with our loved ones, we can get help when it comes to enriching their mind, body, and soul.
Senior Helpers Peachtree City offers companionship care to seniors who need some help getting through the day in communities throughout the South Metro Atlanta area, including Newnan and Fayetteville, Georgia. Whether your loved one needs dementia care or simply a companion to assist them in their daily routines, Senior Helpers can keep your loved one safe and secure in their own homes.
Contact us with any further questions and check out our services page to find the right services to fit your loved one's needs.