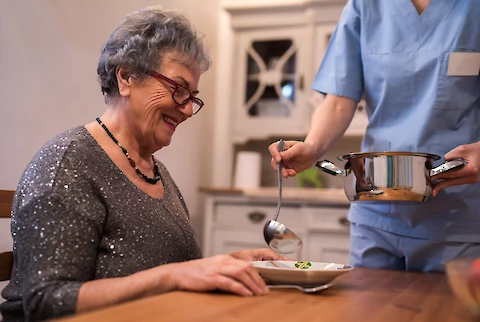 Soup is the quintessential meal ideally prepared with all the necessary nutrients required for a healthy diet. This cold-weather favorite is easy to digest, flavorful, and satisfyingly filling. Soup can be cooked in advance and easily reheated, making it a convenient choice for seniors and their caregivers in the Atlanta area.
It is no wonder so many are choosing to include hearty soups as part of their regular diet. For seniors and anyone with diabetes, enjoying a bowl of one of these diabetes-friendly soups is as smart as it is delicious.
Chicken and White Bean Soup
Make use of your slow cooker with this protein-rich soup guaranteed to please. White beans are a superfood packed with vitamins and approved by the American Diabetes Association.  White beans also contain tons of fiber and serve as an ideal substitute for potatoes. Combined with lean chicken breast and healthy chopped kale and carrots, this wholesome, savory soup is worth preparing any time of the year. Serve the slow cooker chicken and white bean soup with your favorite crusty bread and a fresh salad for all-around good eating.
Very Versatile Veggie Soup
There is nothing like a hot, colorful bowl of vegetable soup to ward off the chilly weather. What makes it particularly great is how you can choose which different ingredients best fit your appetite and cravings. Low-carb options like carrots or cabbage can be combined with delicious fresh cauliflower, celery, and tomatoes. There is no limit to the variations you can include whether you want to add a bit of dill or sprinkle your soup generously with grated parmesan cheese. Vegetable soup freezes well too, so you can save some for another cold winter day.
Hearty Split Pea Soup
Split pea soup is a classic comfort food with tasty, diabetic-friendly benefits. This heart-warming soup is rich in fiber and potassium with a thick and creamy texture sure to please. Leave out the potatoes and add plenty of chopped fresh celery, carrots, and onions for a belly-satisfying meal. Meat lovers can use leftover ham or a ham hock for an extra burst of flavor. Split peas rank lower on the glycemic index which means they release glucose more slowly than other legumes.
Sausage and Greens Soup
It is well-known that dark, green, leafy vegetables are packed with all the vitamins, minerals, and iron a healthy body needs. Add low-fat turkey or chicken sausage, reduced-sodium cannellini beans, and tomatoes, and you have the ideal recipe starter for a delicious soup. Use Swiss chard with the stems removed or substitute it with nutritious spinach or kale. Give it a European twist with Italian seasonings and garlic or choose a spicier sausage for a touch of heat. Sausage and greens soup will soon become one of your cold-weather favorites.
Turkey and Barley Soup
Turn leftover turkey or chicken into a pot of steaming goodness with an aromatic turkey and barley soup. Barley is considered another diabetic superfood rich in dietary fiber. According to a study by Lund University, barley might actually help to reduce blood sugar levels, especially for those at risk of diabetes. The soup includes fresh diced carrots, sliced mushrooms, and celery cooked in a fat-free, low-sodium chicken broth base. If you feel adventurous, you can add sweet potatoes or other healthy greens and vegetables.
Senior Helpers offers exceptional, customized care right from the comfort of your own home. Our services are available in the Atlanta, Peachtree City, Newman, and Fayetteville communities. Contact us anytime and let us know how our service can best give you and your loved ones the peace of mind you deserve.