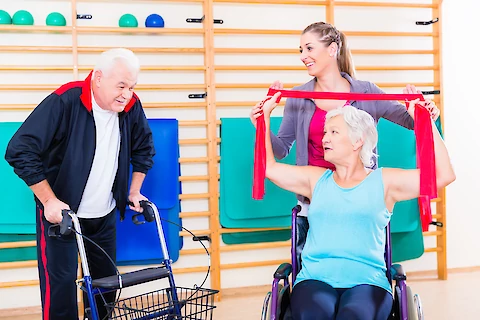 Seniors with limited mobility can often feel frustrated and unmotivated. It is common for senior citizens to receive fewer opportunities for physical activity, either due to illness or difficulty in getting around. However, that doesn't mean they should let that exercise slide! There are a variety of ways that seniors with limited mobility can remain active and stay motivated. 
Explore Low-Impact Exercises
Low-impact physical activity is a great way to improve overall health, strength, and balance in seniors with limited mobility. A good place to start is walking or chair exercises that focus on upper body strengthening, legs and feet movements as well as deep breathing and stretching. For those who've difficulty getting up out of a chair, an armchair exercise routine can easily be used instead. 
Try Adaptive Sports
Adaptive sports are a great way for seniors with limited mobility to stay active.  Adaptive sports like wheelchair basketball and tennis, indoor rowing and table games provide modified rules that make the game accessible to those unable to do traditional activities without difficulty. Not only is it an enjoyable form of physical activity, but it can also help build confidence and camaraderie when playing alongside others with similar limitations. 
Set Attainable Goals
It is always important to set achievable goals for ourselves, no matter our abilities or limitations. To stay motivated and active, caregivers for seniors with limited mobility should think of reasonable small-scale objectives that are both safe and enjoyable. This could include making it a priority to take daily strolls around the neighborhood or striving to do 10 minutes of physical activity every day, especially in the beginning. 
Look for Opportunities to Connect With Others
Creating opportunities for connection and socialization can boost mental health, mood, and motivation. Caregivers can encourage their senior patients to join a seniors' club that focuses on physical activities or get involved in volunteering projects in the local community. Not only will these experiences help them stay active, but they also provide a great chance to meet peers with similar interests while having fun too! 
Incorporate Variety
Adding variety to exercise routines is important for seniors with limited mobility. Doing the same activities over and over again can begin to feel tedious, leading people to give up on their goals entirely. Avoid this issue by regularly mixing things up - try something new every week! This includes exploring different physical activities as well as finding creative ways of doing common ones that are more interesting. 
Take Breaks
When it comes to any form of physical activity, taking breaks is important for seniors with limited mobility. Not only will breaks allow them the necessary time to recover, but they can also provide the opportunity for a little downtime in between activities. During this respite period, seniors can take part in other recreational activities like reading, playing musical instruments, or conducting light hobbies which often make any kind of exercise seem more enjoyable overall. 
Get More Help Keeping Your Senior Loved One Active
Having an extra caregiver on hand can help encourage many seniors to get out, be more active, and engage in their communities. At Senior Helpers Venice, our services include helping seniors find strategies to exercise. If your loved one lives in North Port, Venice, Englewood, Punta Gorda, South Sarasota, Nokomis, Osprey, or Port Charlotte, contact Senior Helpers Venice today to learn more about our services.