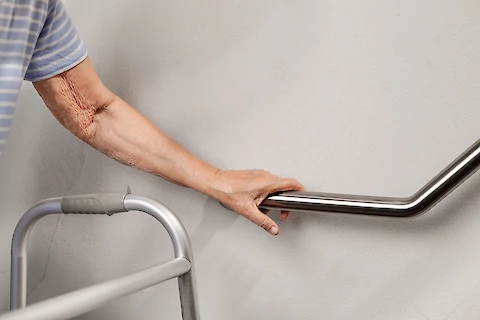 If you're a senior citizen looking to maintain your independence and quality of life as you age, assistive devices can be a great help. These innovative gadgets make daily tasks easier and promote safety at home and in public spaces. Senior Helpers Venice will discuss some top assistive devices that you should consider owning, from grab bars to amplified telephones, which can help you continue to live to the fullest.
1. Grab Bars
Grab bars are a simple yet essential addition to a senior's home. These sturdy, metal bars can be installed in various areas like bathrooms. They provide support and stability to prevent slips and falls. Ensure a professional installs them to guarantee they're securely attached and can bear weight.
2. Reacher Grabbers
These tools extend your reach, allowing you to pick up items without bending or stretching. They can be helpful for seniors with limited mobility, making it easy to grab items from high shelves or off the floor. Consider the grip strength and length when choosing one. If you are selecting a grabber for a senior loved one in your life, ask for their preferences in terms of length and handle, so that you can be sure to choose one that they are comfortable with.
3. Pill Organizers
Pill organizers make managing medications easier by providing separate compartments for different times and days of the week. This system helps prevent missed or double doses. Keep the organizer in a safe place, away from children or pets. Senior adults who might struggle to remember when to take their medication can set up reminders on their phones or install an app that helps to remind them.
4. Mobility Aids
Walkers, canes, and wheelchairs improve mobility and independence for seniors. Consult with a professional or your doctor to find the right aid for you. With practice, these aids can greatly enhance your freedom and safety.
5. Shower Chairs
Shower chairs provide a comfortable and secure place to sit while bathing, reducing the risk of falls. Choose one that is the right size and has non-slip feet for added security.
6. Amplified Telephones
For seniors with hearing difficulties, amplified telephones make communication easier by offering adjustable volume control and sometimes visual signals for incoming calls. Ensure compatibility with existing hearing aids, if needed.
7. Automatic Jar Openers
Seniors with arthritis or limited hand strength can benefit from automatic jar openers. This  clamp onto jars and effortlessly twist off lids. Choose a model compatible with various jar sizes.
8. Seat Lifts
Seat lifts are cushioned devices placed on chairs or sofas, making it easier for seniors to stand up from a seated position. They can be manual or powered. Check for compatibility with your furniture and the appropriate level of support.
Senior Helpers Can Provide Support and Mobility Assistance
Investing in these assistive devices can significantly improve seniors' quality of life, safety, and independence. Explore the options available to you and your loved ones. For seniors living in North Port, Venice, Englewood, Punta Gorda, South Sarasota, Nokomis, Osprey, and Port Charlotte, contact Senior Helpers Venice for all of your premium in-home senior care needs.