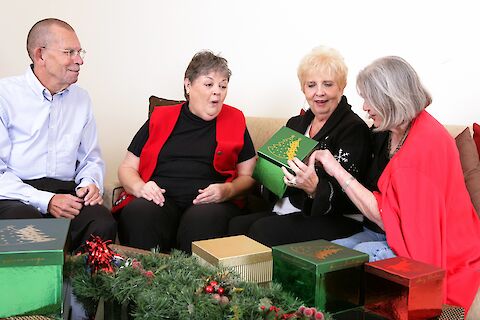 15 Gifts for Elderly Friends to Exchange During a White Elephant or Secret Santa
Gift exchanges such as White Elephant or Secret Santa are popular traditions among seniors in Venice. In a White Elephant exchange, participants bring a wrapped gift to be exchanged with others in the group. In a Secret Santa exchange, each person brings a gift for a specific colleague, but the identity of the "Secret Santa" is not revealed until the gifts are opened. These types of exchanges can provide a fun social activity for seniors and an opportunity to exchange gifts with friends and colleagues.
Here are some gift ideas for elderly friends to exchange during a White Elephant or Secret Santa event.
Comfort Gifts
There are many comfort gifts that could be suitable for seniors, including:
Weighted blankets: These blankets are designed to provide a sense of security and comfort by applying gentle, evenly distributed pressure to the body. They can be especially helpful for seniors who experience anxiety or have difficulty sleeping.
Heated blankets or throws: These can provide warmth and comfort for seniors who may have difficulty regulating their body temperature or who simply enjoy the soothing sensation of a warm blanket.
Soft, cozy pajamas or robes: Comfortable clothing can help seniors feel more at ease and relaxed.
Aromatherapy diffusers and essential oils: The use of essential oils can help seniors relax and improve their overall sense of well-being.
Other great comfort gifts for senior friends can be a comfortable pillow or mattress topper, a comfortable chair or recliner, a comfortable, easy-to-use heating pad, a warm, comfortable pair of slippers or socks, etc. 
Safety Gifts
Gifting an elderly friend an item that keeps them safe is loving and caring. A gift to increase the safety of an elderly friend would be received with a lot of gratitude. 
Here are some ideas for safety gifts for seniors:
Fall-resistant slippers: Slippers with non-slip soles can help prevent falls and slips around the house.
Non-slip bath mats: These mats can help prevent falls in the bathroom.
Automatic night lights: These lights can help seniors navigate their homes safely at night.
Smoke and carbon monoxide detectors: These detectors can help seniors stay safe by alerting them to the presence of fire or dangerous gases in their homes.
Fun Gifts
Gifts that promote brain exercise can be fun for seniors. Consider giving these as part of a White Elephant or Secret Santa exchange to help elderly colleagues keep their minds sharp.
Examples of perfect fun gifts for senior friends in Woodstock include:
Puzzles: These can provide entertainment and a sense of accomplishment for seniors who enjoy problem-solving and mental challenges.
Board games: Board games can be a fun and social activity for seniors, and there are many options available to suit different interests and skill levels.
Books: Books can provide entertainment and mental stimulation for seniors who enjoy reading.
Tech Gifts 
Senior friends who embrace technology will appreciate a White Elephant or Secret Santa gift with a modern edge. 
Below are great gifts for tech-loving seniors:
Digital picture frames: These allow seniors to display and easily rotate through a collection of digital photos, providing a simple and convenient way to view and share memories.
Smart speakers: These devices, such as Amazon Echo or Google Nest, allow seniors to use voice commands to play music, set alarms, ask questions, and more.
E-readers: E-readers, such as Kindle, can be a convenient and lightweight way for seniors to read books and magazines.
Smartwatches: These devices can help seniors stay connected. It also tracks their activity levels, making them a good gift for those who are tech-savvy and interested in fitness.
Skilled and Compassionate Caregivers in Venice
A White Elephant and Secret Santa offer a perfect time for elderly friends to exchange gifts. Fortunately, there are many items to choose from as one looks forward to the social gathering. 
Senior Helpers of Venice has professional caregivers trained to offer individualized care for seniors in North Port, South Sarasota, Nokomis, and Port Charlotte. For example, if a senior needs help to get to and from the gift exchange event, our caregivers can assist with coordinating transportation. They can also help seniors select and wrap their gifts for their Secret Santa. Contact us today to learn more about other ways we can help.