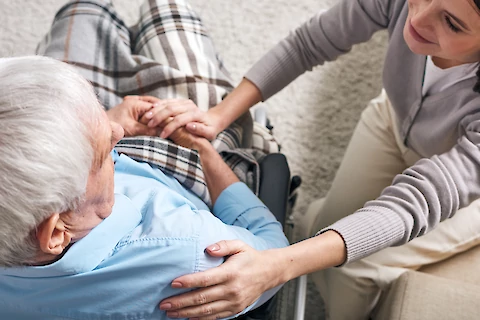 As an adult child caring for senior parents, it's normal to feel guilty about taking time off from your caregiver role. You may worry that your senior loved one will be left alone or that you're not doing enough to support them. However, as a caregiver, it's essential to understand that taking care of yourself is just as important as taking care of your loved one. By prioritizing your well-being, you can better ensure that you have the energy and resources to provide quality care for the long term.
Knowing the importance of prioritizing self-care doesn't make the guilt disappear when you take some much-needed time off, though. However, by setting boundaries, enlisting help, and finding ways to restore your energy, you can enjoy guilt-free time off without compromising your elderly loved one's care.
Set Boundaries
It's okay to say no. It's best to say no to requests that exceed your capabilities or cause undue stress. Attempting to take on tasks beyond your abilities can put your and your senior loved one's health and well-being in danger. You can't be everything to everyone, so know what you can and are willing to take on. Communicate those boundaries with your senior loved one and other family members, so expectations are clearly defined. If your senior needs help outside of those boundaries, then consider enlisting professional help.
Enlist Additional Help
If you are taking time off, talk to other family members or friends about pitching in to help with tasks during your absence. If you are the primary caregiver, this can be an excellent opportunity for seniors to reconnect with family members they haven't seen in a while. Not only is this great for dispelling feelings of loneliness, but it gives them a more extensive support network, so the burden isn't entirely on you. It's also a good reminder that caregivers don't have to do everything alone and that sharing responsibilities can help reduce the work involved in caring for seniors.
Find Activities That Restore Your Energy
Taking breaks and engaging in activities that bring joy and restore energy levels are essential for your well-being. This could be something as simple as walking, practicing meditation, or engaging in a hobby. These activities can help you feel rejuvenated and better able to handle the demands of caregiving. Even taking an hour or two away from caregiving tasks to engage in energy-restoring activities can leave you feeling refreshed.
Remember, taking care of yourself is not selfish. It's necessary for the long-term well-being of both you and your loved one. By setting boundaries, enlisting help, and finding activities that restore your energy, you can ensure that you can provide the best care possible for your elderly parent.
If you are struggling to find support in caring for your senior loved one, talk to Senior Helpers Treasure Coast. Our team provides compassionate care for seniors in Salerno, Stuart, Palm City, Jensen Beach, Port St. Lucie, Fort Pierce, Vero Beach, Sebastian, and beyond. Senior Helpers Treasure Coast's services can give caregivers a much-needed break, whether for a few hours a week or overnight care. Call Senior Helpers Treasure Coast at 772-207-1906 or contact us online to set up a free in-home evaluation to learn more about our senior in-home care services.