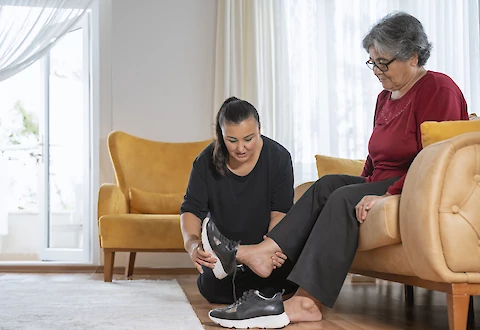 4 Ways to Ensure Checking in on Elderly Parents Doesn't Feel Like a Chore
Checking in on elderly parents throughout the Ocala area can become increasingly necessary as they get older and need more assistance. However, in many cases, over time it can start to feel like a chore. Many adult children may have many other responsibilities on their plates and may end up struggling to keep up with the needs and demands of elderly parents. Fortunately, they can try several strategies to prevent checking up on elderly parents in The Villages or Fruitland Park from feeling like a chore.
Share the Load
Adult children of elderly parents who have siblings or family members in the area may find it easier to keep up with their parents' needs if they split the load with other family members. When one family member has to take on all the burden of care for an elderly family member, it can feel frustrating and overwhelming. By sharing that load, many adult children find that they can better manage those burdens and ensure that their family members continue to feel cared for.
Bring in Help, If Needed
For people who find themselves struggling to check in on senior loved ones, having help can prove essential. Senior care services throughout the Lady Lake or Clermont area can come in to check on seniors at predetermined times and help them with common issues, including tidying the house, checking on medical issues, or providing help getting around the local area. Senior care services can help alleviate some of the burdens of checking on elderly parents and make adult children feel more comfortable when they do check in.
Engage in Fun Activities or Plans Together
Checking in on elderly family members does not have to be just a chore. Instead, family members can try making fun plans together. They might want to get in the habit of going over for dinner a couple of times a week--after all, everyone has to eat, and they might as well eat together! They can also try making plans to do something fun together so that they start to anticipate that time joyfully, whether that means going out for an activity everyone looks forward to or heading in for a family game or movie night.
Try Checking In Via Technology
As seniors age, it can be very important to check on their homes to make sure that they have enough food and that they can keep up with everything. However, every check-in does not necessarily have to be in person. Checking in over the phone or via video chat instead of driving out to Tavares or Eustis can make those check-ins easier and ensure that they feel less like a chore.
Senior Helpers of The Villages Can Check In on Elderly Family Members
For families in Belleview, Mt. Dora, and Leesburg, checking in on elderly family members can be easier with Senior Helpers The Villages. Contact us today to learn more about the services we offer, including how we can help with medical care tasks, check-ins, companionship, and more throughout the greater Gainesville area.