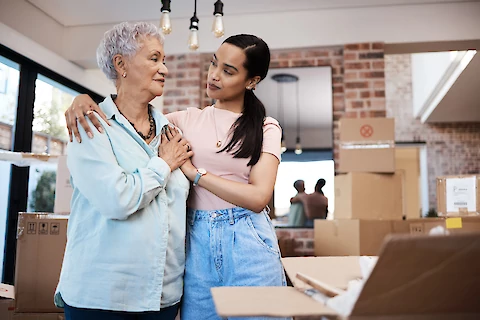 How To Make Moving Easier On Seniors (And Their Families) This Spring
Spring is a perfect time to move, thanks to milder weather that makes the moving process such a breeze. However, no matter the season, moving can be a stressful and demanding experience, especially for seniors and their families. Generally, seniors are emotionally vested in the home they are leaving, and one should expect sadness and apprehension about the move. Thankfully, there are many ways to make things as simple, efficient, and comfortable as possible. We have compiled a few helpful tips to make moving easier for seniors in The Villages this spring.
Take Time to Plan the Move 
Every smooth move required a solid plan. Families and caregivers need to put a plan together before implementing any move. A perfect plan should have the following:
A clear timeline: A clear timeline helps families stay on track and ensures deadlines are met.
A to-do list: Once a timeline is in place, families and caregivers should make a to-do list. The ideal list should include every task, whether small or large. Having a to-do list helps ensures everything is remembered.
Preparation of a new place: It is not advisable to wait until after one has moved before setting up the new home. Preparing the new space ahead of moving day can ease moving anxiety. Some tasks that should be completed before the move day include repairs, painting, re-carpeting, decoration/organization, and cable and utility installation.
Prepare a Loved One for the Move
Moving day and the weeks leading can be extremely stressful for seniors. One of the effective ways to reduce anxiety and make the transition easier is to communicate the move in advance. Discussing with a loved one why they need to move and where they will be living can give them time to adjust to the changes. It is also prudent to enlist the help of siblings and other close family members. Surrounding a senior parent with supportive loved ones can help prepare them for the move and ease the emotional stress related to moving.
Declutter and Downsize
A move is a perfect time to get rid of extra junk. Parents should be encouraged to let go of a few things they might not need anymore. Caregivers can donate unnecessary items to charity and throw away the ones that can't be reused. Decluttering and downsizing can make relocating easier for families and elderly loved ones.
Respect the Opinions of the Senior Loved One
Downsizing and packing up a home can cause disagreements between family caregivers and their senior loved ones, as it often involves making difficult decisions and letting go of memories and familiar surroundings. What one may see as unnecessary junk might be of sentimental value to a senior loved one. For this reason, family members and caregivers should respect a senior's opinion regarding the items to be downsized and the ones to be packed. It may be wise to rent a storage unit temporarily to store treasured items. Knowing their valuable items are safely kept can help reduce moving anxiety.
What Is The Best Option To Move A Senior Loved One In The Villages?
There are several options for moving a senior loved one into their new home. One may use a full-service mover to load up all the belongings, ship them to their new destination, and put things in place. However, full-service moves can be expensive. Families can save money on the move by choosing a self-service moving option, which involves loading the moving truck or trailer themselves but having a professional driver haul the cargo. Another alternative is renting a moving truck or trailer and doing it alone.
Contact Senior Helpers today
Moving an elderly parent can be emotionally, physically, and financially taxing. There are several things to plan, organize, and schedule when relocating an elderly loved one into a new home or an assisted living facility. However, with a little advanced planning, caregivers in The Villages can make the transition and overall experience as smooth as possible.
At Senior Helpers, we understand the challenges families and seniors often face when relocating to new homes and living facilities. Our highly trained and experienced caregivers can make the entire process as smooth as possible. We are a premier provider of in-home senior care for The Villages, Leesburg, Fruitland Park, Lady Lake, Clermont, Belleview, Mt. Dora, Leesburg, Tavares, Eustis, Gainesville, and Ocala. Contact us today to discuss your options regarding In-Home Care Services.