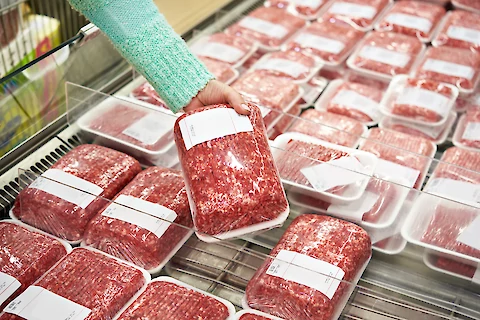 As a senior living on a budget, coming up with creative and affordable ways to feed yourself and your loved ones can be a challenge. That's why Senior Helpers North Palm Beach is here to offer some helpful tips for buying budget-friendly meat for you and your family in West Palm Beach, Jupiter, Belle Glade, Lake Worth, and Palm Beach County! Keep reading to learn budget-friendly meat shopping tips, tasty and healthy meat alternatives, and more.
Tips for Buying Budget-Friendly Meat
Watching your budget doesn't mean you have to give up meat. Here are five tips to help you keep your favorite meat in your meal plan without spending too much. 
Buy in Bulk
Bulk meat purchases can be an excellent way to reduce your grocery bill. Buying in bulk allows you to take advantage of better pricing and variety. You can even freeze and store the extra meat for future meals!
Buy Less Expensive Cuts
There are plenty of nutritious and delicious cuts of meat that you can buy at a fraction of the cost. Look for cuts like oxtail, chicken legs, beef stew meat, and pork shoulder.
Buy Frozen
Buying frozen meat can be a great way to save money and get the nutrition you need. Plus, it'll last longer in your freezer. Look for bargains at your local grocery store, and remember to check out your local farmer's market for frozen meat deals!
Buy Local
Local farmers often offer more affordable, higher-quality meat than what you can find in your grocery store. Buying local supports your local economy and helps keep food industry prices lower. Local farmers may also be willing to sell you smaller qualities of meat, helping reduce your cost and helping with portion sizes. 
Talk to Food Assistance Resources for Seniors
The government provides various programs to help seniors needing food assistance, including food pantries and the Supplemental Nutrition Assistance Program. Check with your local resources to find out what assistance is available.
Tasty (and Healthy!) Replacements for Meat
If you're looking for tasty and healthy alternatives to meat, there are plenty of options. Plant-based proteins like tofu, tempeh, and seitan are all great protein sources and can be cooked in various ways. Additionally, beans and legumes are excellent protein sources and can be used in dishes like chili, burritos, and tacos. And, of course, eggs are a great source of protein and a great addition to just about any meal.
Need Help Preparing Healthy Budget-Friendly Meals at Home?
With a little creativity and some savvy shopping, you can get the most out of your grocery budget and still eat delicious, budget-friendly meat. If you're a senior living in West Palm Beach, Jupiter, Belle Glade, Lake Worth, or Palm Beach County and need extra help, you can count on Senior Helpers North Palm Beach. We provide quality in-home senior care services and can help you buy on a budget. Contact us today to find out more!