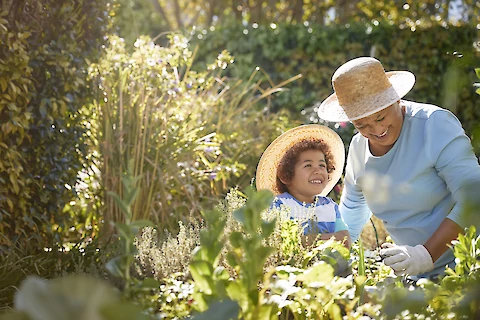 Spending time outdoors has numerous mental and physical health benefits. One of the best ways to enjoy nature is by creating a garden space that's welcoming and accessible for the whole family. Gardening is a rewarding activity and a fantastic opportunity for all family members to bond, especially seniors. With some tips on designing an age-friendly garden that everyone can enjoy, you can create the perfect garden oasis for your family in Palm Beach County!
Pick the Best Plants
Selecting appropriate plants is essential for creating an age-friendly garden. Focus on local plants that thrive in your area, including various flowering, edible, and low-maintenance options. Flowering plants like pentas, plumbago, and blanket flowers add color and visual appeal. Edible plants such as tomatoes, peppers, and herbs serve a practical purpose. Additionally, incorporating low-maintenance plants like succulents or perennials reduces the required upkeep. These low-maintenance plants are especially helpful for seniors.
For an extra sensory touch, consider plants that offer various colors, textures, and fragrances. This can create a stimulating experience for seniors, making the garden an even more enjoyable space. Moreover, including plants that attract pollinators and wildlife, such as milkweed, can promote a thriving, lively environment.
Create Safe Pathways
Ensuring that pathways are safe and accessible is crucial in an age-friendly garden. Opt for slip-resistant, level surfaces to minimize the risk of falls. Design paths that are easy to navigate with gentle curves and clear markings. Incorporating handrails and other support features, particularly in areas with slopes or steps, can provide additional safety and comfort for seniors.
Design a Comfortable Seating Area
A well-designed garden should include comfortable seating areas. Include different seating options such as benches, chairs, and even hammocks. Ensure these areas are easily accessible, and create shaded relaxation spots that protect visitors from the Florida sun. Providing a space for family members to comfortably sit, chat, and delight in the gorgeous garden views makes the outdoor space even more inviting.
Ensure Accessibility Features are in Place
Creating an inclusive garden means considering the needs of those with mobility challenges. Raised garden beds make tending to plants easier on the back and allow seniors to garden without strain. Incorporate ramps and wide pathways suitable for wheelchair users to ensure everyone fully enjoys the garden. Lastly, install adequate lighting throughout the garden for evening enjoyment and increased safety after sundown.
Family-Friendly Activities in the Garden
With an age-friendly garden ready, family members can engage in various activities together. Gardening tasks such as planting, watering, and harvesting can be enjoyed by all ages to foster a sense of accomplishment and togetherness. Engage younger family members with nature scavenger hunts or educational activities centered around the plants and wildlife in the garden. You can also set up areas for outdoor games like bocce ball or horseshoes, promoting leisurely fun for the whole family.
Connect With Senior Helpers North Palm Beach
Creating a garden that's accessible for all ages provides a fantastic opportunity for family members to enjoy the outdoors together. With accessibility features, seating, and the perfect plants in place, you'll create an outdoor space that everyone can appreciate. So, why not start planning your family garden oasis today?
If you need assistance creating a safe and enjoyable garden space for seniors in Lake Worth, West Palm Beach, Belle Glade, Jupiter, or Palm Beach County, contact Senior Helpers Northl Palm Beach. Our compassionate team is here to help enhance the quality of life for your senior loved ones.