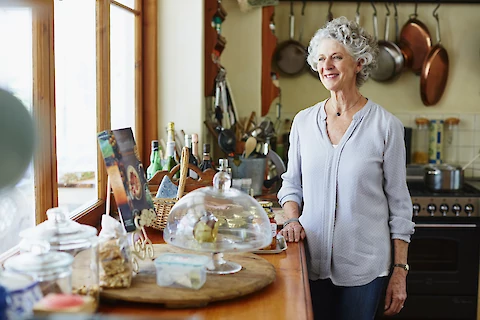 Many people dream of living at home for as long as they can. However, that isn't always easy. That being said, there are plenty of things that you can do to make sure that you or your family members can continue to live at home even if they were diagnosed with Alzheimer's, dementia, or Parkinson's. The kitchen is one area that may need some work. Here is some in-home care guide that you can do.
Update the Lighting
Insufficient lighting can be dangerous for seniors. They may trip and fall over things that they don't see. You may want to change the lightbulbs regularly with LED lights. You may also want to install lighting under the cabinets to make it easier to see the countertops. 
Clearly Mark Cabinets
To make it easy to find items, you should mark the cabinets with what is inside. You may also put a picture of glasses where the glasses are stored or silverware in the silverware drawer. 
Remove the Cabinet Doors
Others simply remove the cabinet doors completely, so you can easily see what you are looking for. You will be able to go right into the kitchen, look around, and grab whatever you wanted. 
Change Where You Put Things
If your loved one is going to be in a wheelchair, you are going to need to move things to his or her level. That being said, even if you aren't in one, you should still keep regularly used items handy. You don't want to have to go crawling around on the floor in order to get something on the bottom shelf. You also don't need to use a step stool to get items on the top shelf!
While Doing This, You May Also Want to Think About Downsizing
There are probably plenty of things in your kitchen that you don't use. Instead of moving them to a different location, you may just want to part with them. Do you still need five pie pans when you aren't going to be making pies as often or at all? What about your bread maker? Is that just taking up space, or do you really need it? 
Though you may be unsure of what you can do to make the kitchen better for you or your loved one, there are plenty of things that you can do to help. You should start with the lighting. You want to make sure that you or your loved one can see well so that falls don't happen. It may also help to mark the cabinets with what is inside though you may also just want to take the doors off! You may also want to change where you put things. Make sure that everything is between the waist and shoulders so you aren't reaching or getting on the ground.
In-Home Care Guide in North Miami
If you need an in-home care guide so that you can continue to stay at home, you should contact us today at Senior Helpers North Miami. We are proud to serve the Miami, Miami Beach, and North Miami Beach area.