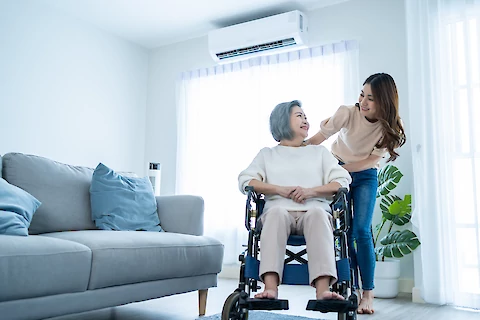 How to Make Your Home More Accessible for a Senior Relative in a Wheelchair
For families who have a senior relative in a wheelchair, the new year brings new opportunities to make things more comfortable for their loved ones. Many homes are built without wheelchair accessibility in mind, and if you want to learn how to make your home more accessible for a senior loved one in a wheelchair, you generally have to do your research. Fortunately, Senior Helpers North Miami has what you need to know about making changes and additions to your home, so that your senior loved one can more easily navigate your home in their wheelchair. 
Widen Your Doorways
Unfortunately, many doorways aren't made with wheelchair accessibility in mind. One of the best ways to make your home wheelchair-accessible is to focus on widening doorways. While it can be expensive to do this to every doorway in your house, try to focus on the most commonly-used areas. You could also consider using offset hinges, which work to swing the door a few inches clear of the opening. 
Add Handles to Bathrooms
Many seniors in wheelchairs might struggle to use the bathroom facilities on their own. Adding handles or grab bars to the bathroom area will help your senior loved one to navigate the restroom with ease. It's also a good idea to add grip bars to the shower if your senior relative lives with you or visits you frequently, to minimize their risk of falling.
Make Your Kitchen Accessible
If your senior loved one enjoys spending time with you in the kitchen, consider putting in some effort to make your kitchen as accessible as possible. This could include moving everyday items like utensils and cooking tools into storage areas that are easy for a senior in a wheelchair to access, or moving appliances closer to the sink. Your senior will appreciate the time and attention to detail that you put into creating a comfortable, accessible space!
Consider Adding a Ramp
Adding a ramp to the front door of your home will be extremely helpful for your senior loved one. Ramps can give seniors in wheelchairs the freedom to go up and down as they please, encouraging their independence and boosting their self-confidence. Additionally, anyone will mobility difficulties can benefit from a ramp, including those who use crutches or scooters. Make sure to check your HOA and local building laws before you sign off on adding a ramp since guidelines for these vary from state to state and city to city.
Senior Helpers North Miami Supports and Encourages Senior Adults
Designing and executing a wheelchair-accessible home is a great way to show your senior loved one that you care about their comfort - so make a plan and get started today! If you have any questions about premium senior caregiving services or if you want to get started on a rewarding career in caregiving, contact Senior Helpers today. We serve seniors in the Miami, Miami Beach, and North Miami Beach, FL areas.