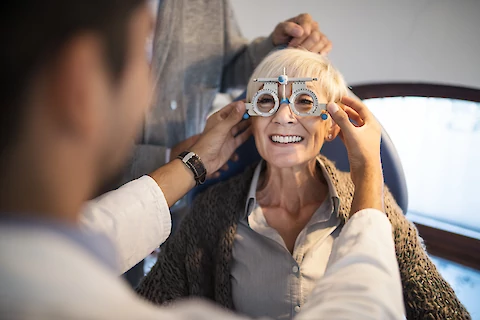 The eyes speak volumes without a single sound, but if you can't see, your world seems to become smaller and smaller. Miami Seniors should be taking special care of their eye health, so they can continue to enjoy the beautiful visions in their lives. Having your vision checked is only one way to keep your eyes in good condition.
How Often Should You Get Your Eyes Checked?
The usual recommendation for those with no real eye issues is every two years as an adult. After 55, it is recommended to continue every two years unless your Optometrist has indicated that there might be something to keep watch on. The American Optometric Association recommends that individuals over 60 undergo annual eye health exams.
Age-related vision conditions can have no symptoms and may develop from other chronic diseases. Seniors with diabetes, high blood pressure, and medications with listed vision-related side effects must be cautious. Visiting the Optometrist every year can help spot these concerns before they become severe and significantly impact your vision.   
Ways to Preserve Senior's Vision
Other than having regular vision checks, including dilation and eye pressure, having good nutrition, UV protection, avoiding smoking, and keeping chronic conditions like diabetes under control can help reduce or prevent certain eye health conditions. Let's examine how these activities help keep your senior's vision healthy in North Miami Beach, FL.
Healthy Diet
A diet high in leafy greens and fruits, incredibly fresh, can assist in getting the needed vitamins and minerals the eyes need to stay strong and fight off the effects of aging. However, take notes when you see your physician and Optometrist; some greens might be off-limits with some blood thinning medications. Part of a healthy diet includes keeping tight control over blood sugar levels. Seniors with diabetes and uncontrolled blood sugar can develop a condition called Diabetic Neuropathy which could lead to blindness if not treated. 
UV Protection
Your eyes can be affected and damaged by UV light from the sun. Therefore, seniors should always have sunshades and UV reflective sunglasses when venturing outside. In addition, as we age, our skin becomes thinner and less resilient, and damage from the sun's rays can make the outdoors seem brighter and hurt. Here are some tips for venturing outside to help protect your senior from UV rays:
Wear sunblock
Wear a wide-brimmed hat
Wear UV reflective sunglasses
If tolerated, wear long sleeves and pants
Avoiding Smoking
Everyone has heard that smoking causes significant health issues, but did you know it can also affect vision? In addition, the risk of developing glaucoma, cataracts, or age-related macular degeneration increases with smoking.
Chronic Conditions
Some chronic conditions can affect the vessels in your eyes and should be kept under tight control so that there is minor damage. Diabetes is one of the significant contributors to Senior vision loss. However, keeping the blood sugar levels in check helps prevent diabetic retinopathy.
Senior Helpers are Here to Assist You with Senior Eye Health!
Should you need to get your senior to the eye doctor and don't have the time, Senior Helpers in Miami, Miami Beach, and North Miami Beach, FL will be there to help you! Contact us to arrange at-home assistance for your Florida senior today!