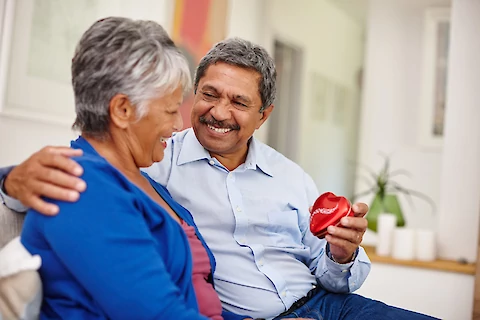 Valentine's Day is a holiday to celebrate love. For those taking care of elderly loved ones with Alzheimer's disease or dementia, getting through Valentine's Day may pose extra challenges. Feeling overwhelmed can be expected, but fear not! Senior Helpers of North Miami are here to help you figure out how to create meaningful moments with your senior loved one this February 14th.
Preparing for Valentine's Day
The most crucial step in preparing for Valentine's Day with a loved one with Alzheimer's disease or dementia is to create a safe environment. As much as possible, try to make sure your senior loved one will have the same comfortable and familiar surroundings they are used to. If outside help is needed, Senior Helpers of North Miami can provide an experienced caregiver. We have team members who understand what it takes to create safe environments for seniors with dementia.
You'll also want to set realistic expectations before celebrating Valentine's Day. These expectations mean accepting that things may not go according to plan. You'll want to embrace each moment, no matter how small it may be. This way, you won't feel disappointed if any challenging moments arise during the day. 
Finally, remember that even simple acts can make celebrating Valentine's Day special! Little things like bringing them their favorite food or drink will mean more than anything else. 
Celebrating Valentine's Day With a Senior Loved One
Engaging in meaningful activities
Once the environment and expectations are set, you can start looking for special activities you and your elderly loved one can enjoy together. One way to make February 14th memorable is by reminiscing over old photos or recordings from past Valentine's Days. Find pieces featuring friends, family, or other important people in their life. You could also plan a visit with local animals, such as dogs, from a shelter. Interacting with animals can have positive effects on memory and well-being.
Keeping the day simple
The best way to keep the day stress-free and enjoyable is by keeping it simple! Don't overcomplicate activities or ideas. Instead, try five-minute activities that can be fun yet relatively low-key. Engage in arts and crafts. Try music therapy sessions with their favorite tunes from yesteryear. Play board games. These are perfect for a successful Valentine's Day celebration with an elderly loved one.
Showing love and appreciation
Showing love and affection is essential to getting through Valentine's Day while dealing with Alzheimer's or dementia. Though you might be caring for your senior relative, don't forget they can show love too! We suggest finding small ways for them to show their appreciation for you. That might be offering a hug or squeezing your hand tight occasionally.
We Help You Care for Your Loved One Everyday
Valentine's Day is not just about showering our senior loved ones with love. It's also about learning how to communicate better and appreciate the little moments. With Senior Helpers of North Miami, you can rely on experienced and kind caregivers who understand how best to assist your elderly loved one in making this day as special as possible. Don't hesitate to contact us today for help serving your family's needs in Miami, Miami Beach, and North Miami Beach, FL!