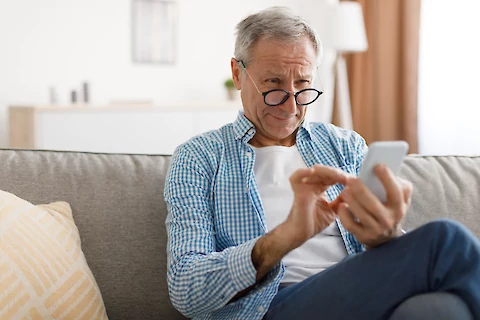 Learning to use the latest digital technology can be intimidating for seniors. Knowing what apps and programs are safe in an increasingly connected world can be daunting. That's why Senior Helpers North Miami is here to help. This blog post is your guide to understanding the basics of digital safety and security, so you can feel comfortable using the technology available. From recognizing warning signs that a program or app might be unsafe to knowing how to make your computer run faster, we'll provide you with the knowledge you need to navigate the digital world confidently.
How Do You Know an App or Program is Safe to Download?
Look for reviews: Check reviews on the app store or program's website to see what others say about it. If there are many positive reviews, it's likely safe to download.
Check the developer: Research the developer of the app or program. If they have a good reputation and have created other successful products, it's likely safe.
Verify the source: Download from official app stores like Google Play, Apple's App Store, or the program's official website. Avoid downloading from third-party sites or emails.
Check for permissions: Read the app or program's permissions before downloading. It may be unsafe if it asks for more access than necessary.
Check for certifications: Look for certifications like the "Designed for Families" badge on Google Play or the "Safe Download Guarantee" on Download.com.
Install antivirus software: Use antivirus software on your device to detect and prevent any malicious software from being downloaded.
Keep your device up-to-date: Ensure your device's operating system and all installed apps or programs are up-to-date to ensure maximum security.
Be careful with personal information: Be cautious when providing personal information in an app or program. Only give out the necessary information and avoid giving sensitive information like social security numbers or credit card information.
Use common sense: If something seems too good to be true, it probably is. Be wary of apps or programs that offer too many promises or ask for too much information. Trust your instincts and avoid downloading anything suspicious.
Consult with family or friends: If unsure about what apps and programs are safe, consult with tech-savvy family or friends. They may be able to offer insight or advice on whether or not to download it.
Warning Signs a Program or App Might Be Unsafe
Here are some warning signs that a program or app might be unsafe:
It asks for excessive permissions or access to personal information.
The app or program has poor reviews or ratings on reputable app stores.
The program is from an untrustworthy source or has a suspicious-looking website.
It requires payment or asks for credit card information before allowing use.
The app or program is advertised with misleading claims or promises.
If you encounter any warning signs, it's best to avoid downloading the app or program and seek a safer alternative.
How to Make Your Computer Run Faster
When it comes to technology, speed is everything. That's why keeping your computer running as smoothly as possible is essential. You can do this by freeing up space and removing any files you don't need. You should also clear your cache regularly can help keep your computer running smoothly.
Need More Help Managing Technology at Home?
Although using technology can be intimidating for seniors, knowing what apps and programs are safe helps. With the information provided in this blog post, you can now confidently navigate the digital world. If you need additional assistance in Miami, Miami Beach, North Miami Beach, FL, Senior Helpers North Miami is here to help. We provide in-home senior care and can help with any technology-related issue you may be having. Contact us today to learn more!