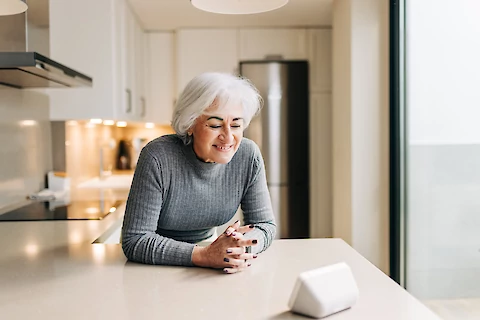 As people age, safety and independence become top priorities in maintaining a high-quality life. Luckily, technology has made significant strides in recent years, and smart home devices are now more accessible and user-friendly than ever. In this blog post, you can learn about smart home technology, designed to help seniors live more safely and independently. From voice-activated assistants to video doorbells, read on to discover which options are right for you.
Voice-Activated Assistants
Voice-activated assistants, such as Amazon Echo and Google Home, are becoming increasingly popular in today's tech-savvy world. These devices can make life easier for seniors by providing hands-free control of various home devices. This includes turning on lights or adjusting the thermostat. Seniors can also access information, make phone calls, and send messages with simple voice commands. This reduces the need to fumble with tiny buttons or navigate complex menus. When choosing the right voice-activated assistant, consider its compatibility with other smart home devices and personal data privacy. Most important of all is its voice recognition quality.
Smart Thermostats
A smart thermostat, such as Nest or Ecobee, can help seniors save energy and better manage their home's temperature. These devices can automatically adjust the temperature settings, ensuring cost-efficiency and a more comfortable living space. Smart thermostats can also be controlled remotely using a smartphone or tablet, offering seniors and caregivers greater peace of mind. To choose the right smart thermostat, take into account its ease of installation and compatibility with your heating and cooling systems. Consider the availability of any necessary technical support.
Automated Lighting Systems
Automated lighting systems like Philips Hue and Lutron can significantly improve seniors' safety and comfort at home. For example, motion-activated lighting can help prevent falls by ensuring that dark hallways and rooms are always well-lit. Seniors can also tailor lighting settings to suit their needs, creating a cozy and inviting atmosphere. When selecting an automated lighting system, consider the type of light bulbs and fixtures in your home, the ease of installation, and the available customization options.
Video Doorbells
Security is a top concern for many seniors, and video doorbells such as Ring and Nest Hello offer a practical solution. These devices allow seniors to remotely monitor their front doors and communicate with visitors without opening the door. They can even alert the authorities if necessary. This added layer of security can provide seniors with much-needed peace of mind. When choosing a video doorbell, consider the video quality, installation requirements, and compatibility with your home's Wi-Fi system.
Medication Reminders
Medication reminder devices, such as MedMinder and TabSafe, can significantly improve medication adherence for seniors. These devices provide visual and auditory reminders to take prescribed medications, ensuring seniors stay on track with their daily regimens. For seniors and caregivers, medication reminder devices can offer a sense of relief and increased accountability. To choose the best medication reminder device, consider factors like the number of medications to be managed and desired level of customization. Look into the ease of use for both seniors and caregivers.
Choosing the Right Technology
With so many options available, it's essential to carefully assess your individual needs and priorities before selecting the right smart home technology. Carefully contemplate your budget, the installation requirements, and any potential benefits each device can bring to your daily life. For professional advice and recommendations tailored to your unique situation, don't hesitate to seek expert assistance.
Ask Senior Helpers North Miami for Assistance
Smart home technology has the potential to considerably enhance the safety and independence of seniors living alone or with a caregiver. By exploring the available options and carefully selecting the most suitable devices for your needs, you can enjoy a more comfortable, secure, and autonomous lifestyle. If you're in Miami, Miami Beach, or North Miami Beach, FL, and need personalized assistance for you or your senior loved ones, contact Senior Helpers North Miami. Our team of professionals is here to offer care and companionship as needed.