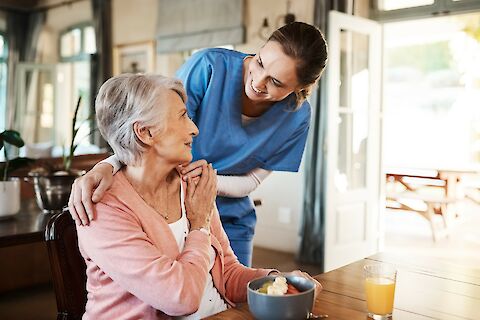 16 Ways to Keep Your Senior Parents Safe at Home
My mother-in-law and father-in-law were in their 90's and overall doing well at maintaining their life in their home. However, with an increasing shuffling gate, the hazards were increasing.
Remove throw rugs. Throw rugs were everywhere! In the bathroom, hallway, kitchen, basement, and garage. Each throw rug presented the hazard of sliding and causing a fall, or stumbling over the edge of it and causing a fall.
Use rubber mats in bathtubs and showers. A bathtub with a walk-in entry is even better.
Use a tub or shower seat. Sitting instead of standing will help to prevent falls.
Set the hot water heater to a safe temperature. Burns or scalding on seniors' thin skin can often happen if the temperature is too high.
Install grab bars. They should be in the shower and on both sides of the toilet.
Install non-slip treads. If steps are still needed, the application of non-slip treads will aid in preventing falls from slipping.
Check Hand Railings. Make sure that the hand railings are sturdy and do not come away from the wall. The elderly will often put more weight on a handrail in an effort to keep themselves steady.
Use colored tape to mark the top of steps so they are not missed when using the steps.
Install and use a stairlift, so they will only have to sit to move up or down the stairs.
Remove wheels from chairs. A chair with wheels can easily cause a fall by slipping away from the senior.
Replace round doorknobs with levers. It is much easier to operate a lever doorknob than the round type.
Use a raised or high profile toilet or add a height extension to the toilet. This makes it much easier to sit and lift off of the toilet.
Improve lighting. Check for burned-out bulbs and replace bulbs with daylight LED bulbs to help with lower vision.
Post phone numbers of emergency personnel and family or neighbors who would help. Sometimes, in an emergency, a person may forget a phone number.
A security system is a plus. If your loved one can operate a security system, it is very helpful, along with keeping doors and windows locked.
Remind them of basic security precautions, such as not opening the door to strangers, and not giving out any information over the phone.
These are just 16 of the simplest changes to safety that can be made. Your senior may resist changes, so try to do them on several visits instead of all at once so it is not too overwhelming. They may still resist, but any safety improvements will extend the time they can spend living somewhat independently in their home. To get a personal inspection and suggestions on the most needed safety improvements, contact us for help.