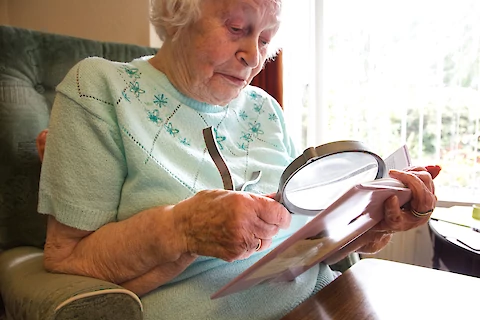 How to Make Your Home Safer for Seniors with Failing Vision
Vision problems are common among the elder community. Approximately 1% of adults aged 50 to 54 years in the U.S. are living with a visual impairment or are blind, but this estimate increases to nearly 20% for individuals 85 years or older.
If your senior loved one's vision is failing, it's important to accommodate their needs and provide them with a safer environment when at your home. Continue reading to learn the best practices to make your home safer for seniors who are visually impaired. 
1. Increase the Lighting in Your Home
One excellent way to make things more manageable for your senior loved one is to increase the lighting in your home. Bringing in more light, whether natural or artificial, will help them see their surroundings better.
You may want to consider arranging lighting in areas where activities take place. The most common rooms you'll need to add more light in are the kitchen, reading rooms, and other sitting areas. Be sure that the lighting is uniform and consider investing in floor and table lamps since they can be easily arranged around a room. 
2. Rearrange the Furniture 
For seniors who have failing vision, it's essential to create a smooth flow of traffic with your furniture. This can help your loved one maneuver more easily throughout your home, and it promotes better safety. Here are a few ways to rearrange your furniture: 
Arrange your furniture in a way that allows for wider walkways.
If your senior loved one enjoys reading, position sitting chairs next to windows to allow natural light to enter the room.
Position mirrors so they don't reflect bright lights that can increase vision problems.
3. Eliminate Safety Hazards
Eliminating simple safety hazards is a great way to ensure your senior loved one is safe while visiting your home. Many people may not notice that their home has safety hazards, but these hazards become more apparent for those experiencing vision loss.
One of the biggest safety hazards for those with vision loss is clutter. Here are a few ways you can declutter your home and provide a safer space for your visually impaired senior loved one:
Use double-sided tape for rugs: To prevent seniors from tripping, use double-sided tape for rugs in your home. Double-sided tape will secure the rug to the floor, even when someone is walking on them. 
Keep chairs pushed in: Make it a habit to keep all chairs pushed in so that walkways are clear. 
Secure electrical cords: Don't forget to keep all electrical cords behind electronics to avoid tripping. 
Use non-skid cleaners: When cleaning your floors, use non-skid cleaners to avoid a slip-and-fall incident. 
Senior Helpers South Miami & Kendall: Providing Quality In-home Care for Older Adults
Senior Helpers South Miami & Kendall is committed to providing seniors with personalized in-home care and specialized services for those with Alzheimer's, dementia, and other chronic diseases. We provide services for older adults in Miami, Kendall, South Miami, Coral Gables, Coconut Grove, Pinecrest, Palmetto Bay, Miami Beach, and Homestead. Contact us today to learn more about the services we offer.